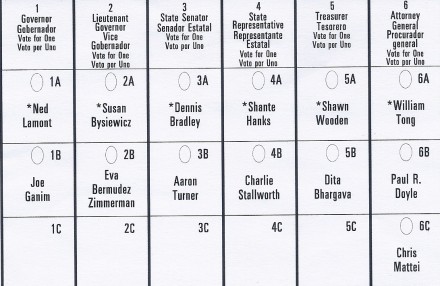 If friends, neighbors, family members want to vote in Tuesday's primaries the deadline for new or unaffiliated voters to register with a party in person with the local registrar of voters or town clerk of residence is noon Monday. You cannot switch parties to vote in a primary. That deadline has passed. Not sure where you vote? See here.

Complete list of Republican candidates on ballot both locally and statewide here. Same for Democrats here.
Absentee ballot voting in Bridgeport has intensified in this sleepy summer primary season. As of Friday afternoon more than 1,000 electors have cast votes via absentee ballot out of nearly 2,000 applications mailed by the Town Clerk's Office. Hundreds more will likely be added to the count by Tuesday's vote. The trend in recent years shows that about 70 percent of city voters who request an absentee ballot vote that way, much of the interest driven by political operatives who bank votes on behalf of the candidates they support scouring senior citizen complexes and public housing units.
Absentee ballot voting has emerged as a rite of passage in city elections worked by multiple campaign operatives. The mantra: If they're working absentee ballots, we need to work it too to compete. So likely based on past turnout models approximately 15 to 20 percent of votes cast Tuesday in Bridgeport will be via absentee ballots, an outlier compared to most of Connecticut.
In addition to the Democratic gubernatorial primary between Ned Lamont and Joe Ganim, two legislative races have stoked absentee ballot interest, the State Senate contest between Dennis Bradley and Aaron Turner for the open seat of a retiring Ed Gomes and the State House battle between incumbent Charlie Stallworth and challenger Shante Hanks.
Connecticut's 23rd Senate District covers about two thirds of Bridgeport and a piece of western Stratford. Stallworth's State House seat includes Whiskey Hill and portions of the North End and Upper East Side.