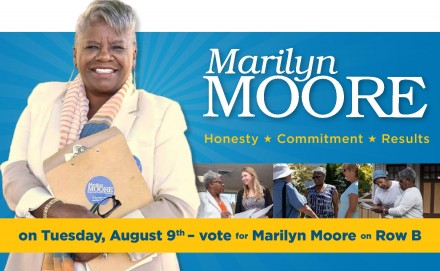 State Senator Marilyn Moore's first mailer of the 2016 reelection cycle hit mailboxes this week in an appeal to traditional Democratic voters as she tries to fend off party-endorsed Tom McCarthy, president of the City Council, in an August 9 primary. McCarthy's first mailer is scheduled to hit in the upcoming week. Connecticut's 22nd State Senate District is arguably the most diverse in the state taking in about one-third of Bridgeport, all of Trumbull and a piece of Monroe.

As primaries go this is among the most watched legislative races because it's considered a swing district based on the city-suburban demographics. That means Trumbull Republican Elaine Hammers, who served one term in the State House, will face the winner in the November general election.
Moore, founder of the Witness Project, a non-profit engaged in the early detection and treatment of breast and cervical cancer, is also the only African American woman in Connecticut's State Senate. She won the seat two years ago knocking off three-term incumbent Anthony Musto in a primary on her way to a general election win. She stitched together anti-establishment pols and government reformers running up large pluralities in Bridgeport voting precincts to counter Musto's strong suburban base. Moore is not a political suck-up to the party establishment and as a result finds herself in a primary. "Marilyn is dedicated to honest and transparent government," declares the mailer. "She stood up for our right to vote against unethical, business-as-usual politics that would eliminate public control over the local Board of Education, and has worked to make registration easier."
Moore and McCarthy have both qualified for Connecticut's Citizens Election program of publicly funded races that will avail them about $100,000 to spend on the primary. Mail is generally the largest campaign expenditure in state legislative races.
"Marilyn gets results on the issues that matter to us," declares the mailer. "In the last two years alone, Marilyn fought to improve breast cancer screening, raise the minimum wage, expand access to child care, increase education funding, reduce opioid dependence and overdose, protect voting rights, provide paid family leave, end end hunger in Connecticut."