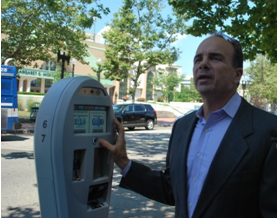 On the 2015 campaign trail Joe Ganim lamented the city's prehistoric parking meter system that fleeced visitors after dropping a few quarters into a Downtown slot. (Borrowing money from the mob was cheaper.) Infrastructure work is progressing on several Downtown blocks to install more than 100 modern parking meters that will accommodate cash, credit card or a mobile app.

"This long-overdue change to make downtown Bridgeport more convenient for residents, consumers and businesses is happening just in time for the holiday season," said Ganim in a statement. "After months of work, we are seeing these new parking meters become operational and consumers and businesses will see the benefit. Consumers will be able to pay for parking with coins or a credit card. There is also a mobile app you can download that allows you to pay using your phone and that even shows where there are parking spaces available in downtown Bridgeport, saving valuable time. I really look forward to our downtown business and residential customers having a better parking experience due to this new technology."
City Communications Director Av Harris says the new parking meters include:
1. Wayfinding that includes the ability to find open Smart parking spaces with the mobile app, eliminating the need to wait for spots to open up or driving around searching for a spot, and reducing congestion and greenhouse gases.

2. Flexible payment options including coin, credit and debit cards, and mobile payment using the "MobileNow®" application available on IOS and Android phones.

3. Public safety features including 911 call button, community service messaging, including weather alerts, local news and merchant promotions.

4. The meters have large, high-definition touch screens.

The City of Bridgeport has chosen Connecticut-based LAZ Parking as the vendor to manage its new parking system. The technology was developed by the firm Municipal Parking Solutions (MPS), who will provide the new meters technical support for them. Complus Data Innovations, Inc. will oversee violation management and collections. LAZ, MPS and Complus will work jointly to provide a managed parking solution for all city parking meters.

Joe Caldwell, Chief Executive Officer of MPS, said, "Bridgeport is on the leading edge of cities that understand the value of advanced parking technology that's simple to use and convenient, and can provide ease of use to their citizens and local businesses. Everywhere around us technology is enhancing our lives–parking should be no different."

The convenience of multiple payment methods requires that smart meter violations be mailed. Before mailing, LAZ personnel will review the captured meter violations to ensure that they are validly issued (e.g., at a broken meter, at an inaccessible meter, where the coin box is full, etc.) Violations will be mailed a few days after the meter captures them. The new parking meters have a grace period of five minutes before a violation is recorded. Parking Enforcement Officers will continue to issue paper tickets on the City's older meters.

LAZ and the Downtown Special Services District will use mobile "ambassadors" in the area of the new smart meters to explain how the meters work and to answer other questions from the public for a preliminary period. LAZ will also have a downtown office at 333 State Street where tickets can be paid and other parking information obtained. Local parking ordinances remain the same. The hours of enforcement are Monday through Saturday 8:00 a.m. until 6:00 p.m. Parking is free of charge on Sundays and Holidays. The City decided to move forward with the smart meters after it completed successful trials of the technology on Broad Street during the past few months. Mayor Ganim stressed that the City is taking precautions to minimize parking disruptions and congestion, and optimize traffic flow, during the installation process. LAZ and Complus are experienced in municipal parking management and enforcement. MPS has successfully implemented its Smart Parking System in a number of cities throughout Connecticut, New York, New Jersey and Massachusetts. The company is based in Minnesota.