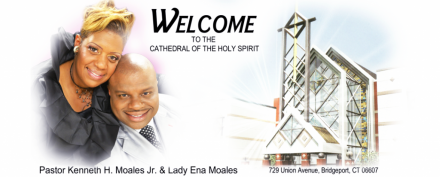 Radioactive Board of Education member the Rev. Ken Moales is contemplating a run in the State Senate special election to fill the seat vacated by Andres Ayala, the new commissioner of the Department of Motor Vehicles. Tuesday night a collection of political leaders, neighborhood activists and clergy gathered in the Holiday Inn Downtown to hear from prospective candidates. Moales could not attend so presumably he did the only reasonable thing to do under the circumstances. He sent his wife.

The group of potential candidates included former State Senator Ed Gomes, former State Representative Don Clemons, local Sierra Club organizer Onte Johnson and 2003 mayoral candidate Carl Horton. When it came time to speak Moales' wife Ena proclaimed she was filling in for her husband who's planning to run for the seat.
Wow, Moales on the campaign trail could be mighty fun, especially with a history of chivalry for his wife.
A little over a year ago, Moales' harangue against the Connecticut Post centered on Post reporters doing their job involving an outstanding warrant for him.
"I AM STILL WAITING FOR AN APOLOGY TO MY WIFE FROM THE IDIOT THAT RAIDED MY HOUSE AT NIGHT TO!!!" wrote Moales in an email to a Post reporter.
No one raided his house or attacked his wife. As the Post reported in 2013 …
Here are a few of Moales' emails to reporter Linda Lambeck, who covers education. They are copied below as sent, errors included, with any clarifications in parenthesis:

From Friday, Nov. 1: "I am still waiting for an apology from the CT Post for attacking my wife at the home!!!" and "You (Lambeck) are a very good reporter … and I am certain that you know who attacked my wife at our private residence! Send me their name and contact information and have the CT Post send my wife and family an apology for such disrespectful behavior and harrassment at our place of residence! Until then … NO COMMENT!!!

From Monday, Dec. 9: "I AM STILL WAITING FOR AN APOLOGY TO MY WIFE FROM THE IDIOT THAT RAIDED MY HOUSE AT NIGHT TO!!!

In response to the above email Lambeck wrote back: "If someone 'raided' your house you should have called the police. Someone knocked on your door after dark. Big difference
So Moales answering questions on the campaign trail? This could be a riot. Just be careful what you say about his wife.