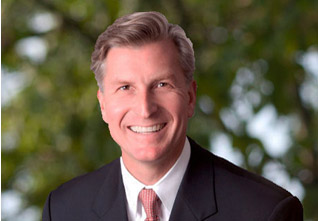 Steve Obsitnik, Republican candidate for Congress, is picking up steam heading into the GOP state convention on Friday. A graduate of the U.S. Naval Academy, Obsitnik announced his candidacy in Bridgeport. If he emerges as the GOP standard bearer he will face Democratic incumbent Jim Himes in the November general election. From the Obsitnik campaign:

Roots

As a first-generation American, Steve has lived the American Dream. His grandparents and father left Czechoslovakia in 1938 for the coal mines of Pennsylvania. Steve's father was the first one in his family to attend college and after a successful business career served as the U.S. Ambassador to the Slovak Republic. At the height of the Great Depression, his German grandparents came to the U.S. not speaking English. His German grandfather worked hard to build his company, American Products, which was ultimately recognized by President Ronald Reagan as the U.S. Small Business of the Year in 1982. These role models stressed hard work, integrity, education and fairness. Equally important, Steve's grandmother, mother and mother-in-law, have all been public school teachers and have been a formative part of his life.

Education

Steve Obsitnik is a graduate of the U.S. Naval Academy in Annapolis, having been nominated by the Honorable Stewart McKinney (R-CT). Upon receiving a Bachelor of Science in Electrical Engineering with honors, Steve had a five-year career in the U.S. Navy primarily serving as a Lieutenant on board the U.S.S. Ray (SSN653), a Sturgeon-class nuclear attack submarine. Prior to Annapolis, Steve graduated from Stamford High School in 1985, displaying leadership, teamwork and sporting competitiveness as captain of the varsity soccer team and a nationally ranked squash player.

After completing his naval duty, Steve attended The Wharton School of Business at the University of Pennsylvania, graduating with a Masters in Business Administration with a degree in finance.

Awards and Distinctions

While serving on active duty, Steve was awarded eight medals during deployments to the Arctic Circle, Atlantic and Mediterranean. Steve served in the Pentagon with the Bureau of Naval Personnel and Submarine Squadron Six in Charleston, SC. Steve has served on several advisory, corporate and government boards including the U.S. Small Business Administration National Advisory Board. As an educator, he is an adjunct professor of entrepreneurship at the Jack Welch College of Business at Sacred Heart University in Fairfield, CT.

Private Sector Experience

Over the past 20 years, Steve has worked in the technology industry as a business executive in both the Silicon Valley and Connecticut. Steve brings expertise with respect to innovating products for market and building global businesses including SRI International (formerly Stanford Research Institute) and the Sarnoff Corporation. Most recently, Steve has been the CEO of Quintel, a major provider of wireless infrastructure to mobile operators with operations in the U.S., Europe and Asia.

Personal and Family Information

Steve lives in Westport, CT with his wife, Suzanne Tager, a management consultant, and their two children, Kira and Kaydan who attend local public schools.