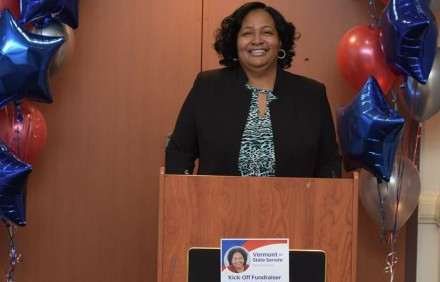 The State Senate seat of a retiring Ed Gomes is among the hottest legislative races this election cycle. The presumed Democratic primary in August features school board member Dennis Bradley who lost a 2016 primary to Gomes, Gomes' former legislative aide Aaron Turner and Carolyn Vermont, former local NAACP leader. Connecticut's 23rd Senate District covers roughly two thirds of Bridgeport and a portion of western Stratford. Coming off her formal announcement and first major fundraising event Vermont provides this biography:

Carolyn Vermont is currently running for State Senator in the 23rd Senatorial District covering parts of Bridgeport and Stratford. She has lived in the district for over 40 years. She has been involved in volunteerism just as long for the betterment of the community. She was invited as a ChangeMaker to the 2016 White House United States of Women Summit in Washington D' which focused on gender equality in the United States. The summit was hosted by the White House, the U.S. Department of State, the U.S. Department of Labor, and the Aspen Institute. She also served as Bridgeport Campaign Manager for CT State Treasurer Denise Nappier. She previously served as an Ethics & Charter Revision Commissioner for the City of Bridgeport. She was the local Chair for the National Political Congress of Black Women.

Public Safety is an issue that is near and dear to Carolyn's heart. She lost a 23-year-old niece to gun violence. Carolyn currently serves as Director of Urban Initiatives for CT Against Gun Violence. In this capacity, she promotes CAGV's mission of identifying, developing and promoting passage of legislation designed to enhance gun safety at the local, state, and national levels through the political process. Through her work with CAGV, Carolyn has developed a relationship with CT Legislators. Her work requires her to interact with the legislators at public hearings, press conferences and community forums. She served as a CT representative at CT in The Capital Seminars in DC during the last two sessions.

Quality education for all children, regardless of their zip code, is very important to Carolyn. She is a former Board of Trustees Member of Fairfield University. She serves as a Workshop & Retreat Facilitator for the Parent Leadership Training Institute. CT Commission on Women, Children & Seniors PLTI goals are to help parents become the leaders they would like to be for children and families; expand the capacity of parents as change agents for children and families; develop communities of parents within regions of the state that will support one another in skills development and successful parent action for children; facilitate systems change for parental involvement with increased utilization of parents in policy and process decisions; and increase parent-child interactions and improve child outcomes through parent involvement.

Job creation has always been a key issue for Carolyn. Her work experience has entailed preparing individuals for employment opportunities. Each Summer, she provides career readiness training for Bridgeport youth. Previously, she served as a Manager for INROADS New England Region, Inc., Community Relations Consultant for Action for Bridgeport Community Development, Inc (A.B.C.D., Inc.)  and Diversity Recruitment Consultant for University College at Fairfield University. Past professional positions include serving as the Director for the Employment Training Division of A.B.C.D., Inc., Loaned Executive for the United Way of Eastern Fairfield County, Youth Violence Prevention Coordinator for the City of Bridgeport, Coordinator of an Upward Bound Program, Case Manager for State of CT Department of Social Services, and consulting assignments with various non-profit agencies.

Carolyn received her Master's and Bachelor's Degrees from Fairfield University. She also pursued doctoral studies in Educational Leadership at the University of Bridgeport. She is certified in the areas of Positive Youth Development, Ethics Education and as a Marriage Educator. She is also a Grants Reviewer for the Workplace, Inc., The Prosperity Foundation & Rotary Club of Bridgeport. Carolyn has served on the interviewing committee for Bridgeport Police Department applicants and provides workshops on community relations for the Department.

Carolyn currently volunteers as President-Elect of Rotary Club of Bridgeport; Board Member of The Prosperity Foundation; Public Relations Chair for the West Indian American Association of Greater Bridgeport (WIAAGB); Community Advisor for the Daily Voice Newspaper; Member of Association of Black Foundation Executives; Member of the Workplace, Inc. Workforce Investment Act Youth Council; Board Secretary for Habitat For Humanity; WIBO Alumni Association; Bridgeport PLTI Design Team; and as a Shepherd's Mentor.

Carolyn's past volunteer involvements includes serving as a Member of First Lady Michelle Obama Women's Roundtable, Ethics & Charter Revision Commissioner for the City of Bridgeport; Fairfield County Community Foundation Beards Teachers Recognition Committee; Bridgeport Federation of Democratic Women;  Member of Fairfield University Trustees Advisory Council, Member of Fairfield University President's Circle and Annual Giving Committee; President of the Greater Bridgeport Branch NAACP; Vice President of Operations for National Black-MBA WGC Chapter;  Board Member of CT Against Gun Violence; Member of the Patient/Family Advisory Board at St. Vincent's Medical Center; Board Member at the Cardinal Shehan Center; Board Member of the United Way of Eastern Fairfield County where she chaired the Allocations Council and Project Blueprint for Diversity;  Board Member of Housatonic Girl Scout Council, Board Member of Inner-City Day Care; Member of BCAC Violence Task Force; Board Chair for the Center for Women and Families of Eastern Fairfield County;  member of the Greater Bridgeport Latino Network; and Member of the Urban League's Nominating and Women's Summit Committee.

Carolyn has received many community awards including Fairfield University Alumni Service Award; Rotarian of the Year;  WB-11 Community Service Award; The Chase Award; United Way of Eastern Fairfield County Community Builder's Award; Cardinal Shehan Center Volunteer of the Year; Girl Scout of Housatonic Council Women of Distinction; West Indian American Association President Award & Community Service Award; Negro Business and Professional Women Community Service Award; National Black MBA-WGC MBA of The Year Award; CT 100 Women of Color Award, Masjid-Al-Aziz Community Service Award; Calvary Seventh Day Adventist Community Service Award; Phenomenal Woman Award;  and Sister Girl Foundation Community Leadership Award. She has also been featured in numerous magazines.

In her personal life, Carolyn is the proud mother of Nicole and Noel.