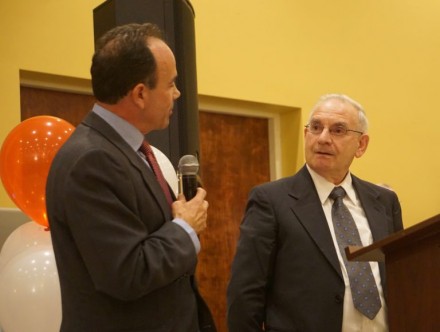 Democratic Town Chair Mario Testa needs to reload his committee treasury. The latest filing with the State Elections Enforcement Commission shows the Democratic Town Committee paid attorney Ed Maley $12,367.99 for legal representation in the challenge of City Council primary results in the North End 133rd District, leaving a $4,741 balance as of December 31. See filing here.

Testa was at the center of the court complaint brought by former State Rep. Bob Keeley and Anne Pappas Phillips when Superior Court Judge Barbara Bellis ruled the chairman prevailing upon Police Chief AJ Perez to assign a cop to pick up absentee ballots on behalf of Testa's council candidate Michael DeFilippo violated state election law. In that case the judge ordered another new primary after previously ruling the September primary was tainted because an unaccounted-for absentee ballot found its way into a recount giving incumbent Jeanette Herron a one-vote edge over Keeley.
With March 6 Democratic Town Committee primaries on the horizon critical to the chair's future, followed by the April 10 council district do-over, Testa will scout donations to beef up the lagging balance. But bumping against that the chairman is hosting a big-ticket event February 22nd at his Madison Avenue restaurant for Mayor Joe Ganim's gubernatorial campaign.
Both Ganim and Testa, preeminent fundraisers, face critical financial tests in the coming months. Ganim's Bridgeport area fundraising base is nearly tapped out following major fundraising events for Ganim's 2019 mayoral reelection and this year's gubernatorial campaign. They must scout other areas of the state for Ganim to compete financially presuming an August Democratic primary for governor. Beyond the money measures, a lot is riding on the town committee primaries as insurgents look to topple the chairman's power. Shortly after the March primaries the 90-member DTC will choose a chairman. Testa wants another two years in support of Ganim.
Testa has large influence over selection of Bridgeport delegates to the Democratic endorsement session in May. Ganim needs 15 percent delegate support to make the primary ballot. Bridgeport, after New Haven, has the most delegates in the state.
For Testa and Ganim the next few months are all about votes, money and delegates.