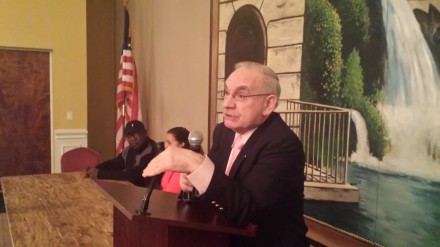 With his ally Mayor Joe Ganim in attendance, Democratic Town Chair Mario Testa Monday night overwhelmingly won another two-year term as party leader defeating newcomer Angel Figueroa who was nominated by party outsider Maria Pereira, a member of the Board of Education. The vote was 81 to 6.

Decked out in bow tie and tuxedo in anticipation of the annual St. Patrick's Day black tie event Downtown, Ganim praised Testa and the city's legislative delegation up for reelection this year. Testa broke ranks with incumbent Bill Finch last year to back Ganim in a hard-fought primary. Testa, an old-fashioned pol, is into the "respect" thing. Finch did not respect Testa so the chairman took care of business and knocked out Finch from the mayoralty.
Speaking to the 90-member DTC, Ganim praised Obama administration policies, declaring Democratic policies must be continued, instead of "some crazy on the Republican side." That crazy could end up being Donald Trump, the Republican front runner for the Republican nomination who's no stranger to Ganim from his first tenure as mayor. Trump once owned property in Bridgeport in anticipation of developing a casino in the city 20 years ago that is now the location of the Ballpark at Harbor Yard. Trump deeded the property over to the city in exchange for forgiveness on back taxes. The ballpark opened in 1998.
City Council President Tom McCarthy, who has a strong relationship with Testa, chaired the DTC meeting. Testa's name was placed into nomination by City Clerk Lydia Martinez, and seconded by multi-mayoral candidate Charlie Coviello who announced to applause Testa "always keeps his word" and former State Senator Ernie Newton who added "When I came back home Mario embraced opportunity … that the tent is big enough for everyone … and that includes people who make mistakes." Newton was referencing his conviction on public corruption charges.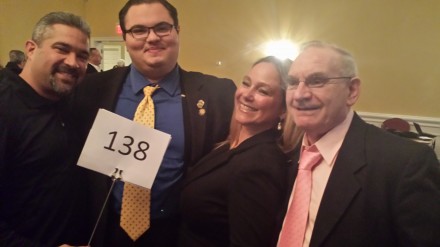 As he often does, Testa highlighted the advantages Bridgeport experiences in Hartford when the party sticks together. He noted the presence of Senate Majority Leader Bob Duff who congratulated Testa for another two years as party chief.
Pereira, as a protest against Testa, nominated Angel Figueroa, an activist from Success Village, who ran on a slate that won all nine seats in the recent DTC primary in the Upper East Side 138th District.
"Angel represents a fresh new breeze blowing in the 138th District which he hopes to cultivate into a strong wind of change throughout Bridgeport," said Pereira in her nomination remarks. "What Bridgeport needs is a DTC which represents integrity, honesty, and ethical governance which has long been absent from the leadership of this body. Therefore I implore my colleagues to, in this particular election, adopt the philosophy of out with the old, and in with the new."
Six members of Pereira's district slate including herself voted for Figueroa. Two broke from Pereira, Rafael Fonseca and his wife Dolores Fonseca. Helen Losak, also a committee member from the district, abstained.
Pereira supported Ganim for mayor last year but now has broken away from the mayor. In recent weeks Figueroa has been a relentless Ganim critic in OIB comments.