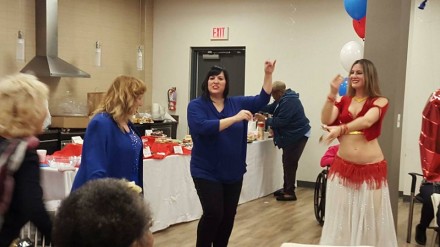 Who says Board of Education member Maria Pereira doesn't have a sense of humor? Wednesday night the self-proclaimed piranha of city politics led her Democratic Town Committee slate in a prance with a belly dancer at an event schmoozing senior citizen voters at Augustana Homes, a key battleground for votes in the 138th District that features three slates, 27 candidates coveting nine seats for control of the Upper East Side 138th District. For more pictures and video from event see here.

Even bon vivant OIB reader Steve Auerbach got in on the action for team Pereira, helping with the raffle.
"What I always thought about the elderly was proven last night at Augustana Homes," says Pereira about the belly-dancing fun. "The elderly are just elderly, they're not dead."
In these super low turnout party fights, absentee ballots will be key. As of Thursday afternoon, about 800 absentee ballots have been mailed to voters covering three district fights. And it could very well be some city precincts could see more votes registered by absentee than electors who actually show up to the polls.
At stake are seats that make up the 90-member Democratic Town Committee that conducts party business, endorses candidates for office and selects a chairman. Pereira is challenging a slate that is supported by Mayor Joe Ganim. Three of 10 districts have primaries.
In case you missed it, the district battles:
The West Side 132nd District pits veteran political operatives with some new faces. Former City Council President Lisa Parziale has assembled a slate of nine against long-time district leader Mike Freddino and incumbent City Council members Evette Brantley and John Olson.
Joining Parziale on the slate, Public Facilities Director John Ricci, school board member Howard Gardner, former City Council member Bob Halstead, Carol Cocco, Gabrielle Parisi, Gail Santini, Jessica Materna and Oyiboka Benson.
Anthony Lancia, Elaine Pivirotto, Rolanda Smith, Vernon Thompson Jr, Reggie Walker and Marcus Brown round out the Freddino slate.
On the East Side, where primaries are sporting events, the 137th District has quite a fight brewing. Of course, they tend to fight and smooch depending on the day. Veteran pols Maria Valle, Juan Hernandez and Vidal Agosto have formed a slate against long-time establishment operatives Gil Hernandez, City Clerk Lydia Martinez and City Council member Aidee Nieves. The latter slate also includes education advocate Jessica Martinez, Joel Rosario, Teresa Davidson, Maria Hernandez, Anderson Ayala and Alreta Taylor. Rosa Franco, Grisel Seda, Noel Sepulveda, Tageldin Banaga, Guillermo Marin and Jacqueline Richardson fill out the Valle-Agosto slate.
The Upper East Side 138th District has three slates, with 27 candidates, on tap. School board member Maria Pereira has forged a slate of insurgents: Michelle Fox, Angel Figueroa, Eric Alicea, Dolores Fonseca, Rafael Fonseca, Helen Losak, Andrea White and Erris Roy Allen. They are challenging a slate led by City Council members Anthony Paoletto, Nessah Smith as well as Martha Santiago, Kelly Perez, Sonia Belardo, Ty Bird, Kevin Monks, Robert Curwen Jr. and James Morton.
A third slate is also competing led by former city councilor and school board member Leticia Colon and activist Charles Hare. Jose Ramos, Lee Roy Owens, Samia Suliman, Sonia Kirkland, Martha Gil, Marybel Torres and Alfonso Rodriguez round out that slate.
This is not winner slate take all. The top nine vote producers are elected to the DTC.