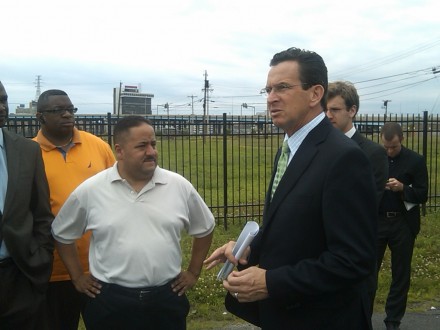 Dan Malloy visited Steel Point Wednesday afternoon to make a point. State government must be a friend, not a burden, to help shepherd major redevelopment projects such as the one moving forward, albeit slowly, in the lower East Side.

Malloy, the Democratic-endorsed gubernatorial candidate, was joined by his lieutenant governor runningmate State Comptroller Nancy Wyman and Bridgeport State Rep. Andres Ayala, a Malloy supporter for a tour of the cleared 50-acre redevelopment site and remarks at the corner of Stratford Avenue and East Main Street. Robert Christoph is the principal developer of "Steelpointe Harbor," a proposed mix of housing, retail, hotel, restaurants, offices, marina and waterfront park. bldsteelpointeharbor.net/main.htm
Shadowing Malloy–when Malloy got out of his car, during casual conversations before his official remarks, during his walking tour of Steel Point, during his remarks and as he was heading back to his car–was a "tracker" with a camera representing Ned Lamont. Modern high-profile campaigns have enlisted these "trackers" (at times the Yale student working for Lamont seemed more like a stalker) in the hope to grab a live gaffe or an inconsistent statement (or what the Lamont campaign could interpret as one). Sometimes a tracker for Malloy will attend one of Ned's events, but what struck me was the velcro nature of this particular tracker. But that's new campaign life.
Malloy went about his business pointing out courteously to greeters the Lamont tracker. Jesus, I wondered if Dan could take a leak without the kid wanting to follow.
Malloy talked about his 12-point development plan and highlighted the need for a second train station for Bridgeport. See his 12-point plan danmalloy.com/policy/jobs_and_economy. To listen to remarks from Malloy and Wyman, with a couple of questions from me, click here. The annoying noise in the background isn't my breathing, it's the wind.
{running time: 11:54}