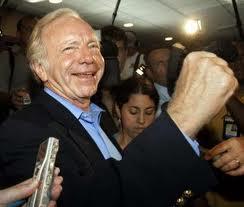 Former U.S. Senator Joe Lieberman, the 2000 Democratic vice presidential candidate who supported Republican John McCain for president in 2008, has been named co-chair of No Labels, the national group that seeks common ground among political leaders. Bridgeport resident David Walker, former U.S. Comptroller General, co-founded the organization. Walker, who has his Black Rock house for sale, says he's likely to leave Connecticut now that Republican Tom Foley lost the governor's race. Several political sources say Walker was under consideration for state budget director had Foley won.
From The Hill:

Former Sen. Joe Lieberman (I-Conn.) is stepping into the position vacated by Sen. Joe Manchin (D-W.Va.) at the centrist group No Labels.

The organization said Monday that it is making Lieberman–the 2000 Democratic vice presidential nominee–its new national co-chairman.

"I'm delighted to be joining No Labels at this critical time," Lieberman said. "We are getting closer, as a nation, to healing our divisions and working together, but we have a long way to go. The 2016 presidential elections are a great opportunity to focus on problem-solving, and No Labels is the only group that can make that happen."
Full story here.