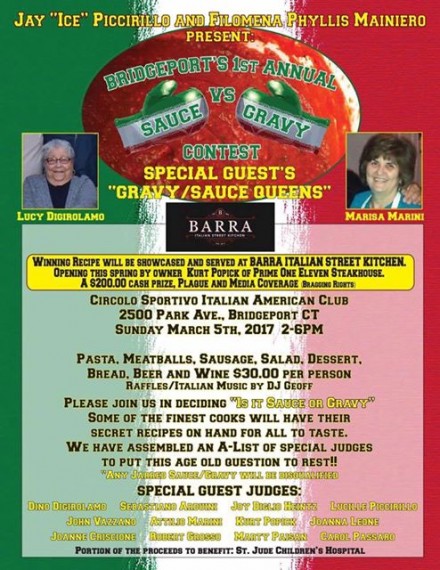 Ya gotta love Jay "Ice" Piccirillo and Joanna Leone for promoting this event. Eat it and rub it on your chest!

From Jay and Joanna:
To all of the passionate, "Sauce" and "Gravy" cooks, here's an update about the big, upcoming contest, "Sauce" vs. "Gravy", taking place on March 5th at Circolo Sportivo in Bpt from 2pm-6pm. You must post the word "Sauce" or "Gravy" in the comment section under the flyer that's on my page or on Jay Piccirillo's page. On Friday, Feb. 17th, your name will be placed into a lottery. There will be 10 "Sauce" and another 10 "Gravy" contestants selected from the lottery. Once the contestants are selected, each contestant will be notified via private Facebook message. The contestants will pay a $30 entry fee. Also, you will need to bring an 8 to 12 quart crockpot. Additional details will be given to the 10 "Sauce" and to the 10 "Gravy" contestants after the lottery drawing on Feb 17th. Any questions, call Jay Piccirillo at (203) 650-8526. I am a proud Special Guest Judge!