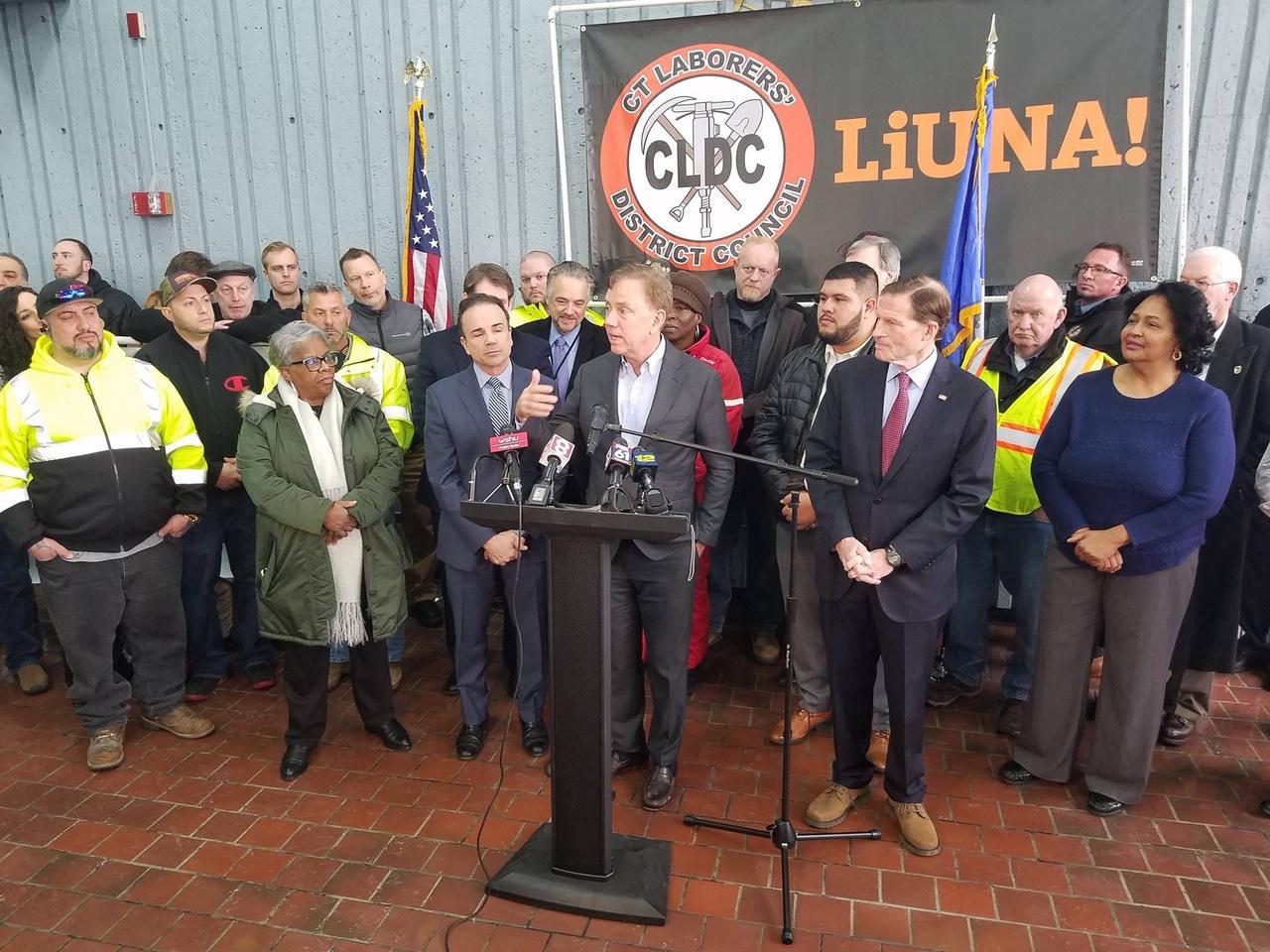 Backed by construction trade unions, Governor Ned Lamont appeared at Bridgeport's Transportation Center on Friday arriving by train from New Haven to highlight his pitch to finance rail improvements. What's the best likely source of new revenue? Electronic tolls, something he's pitched to the state legislature.
From Ken Dixon CT Post:
"I think the people behind me here remind you how important our transportation system–and upgrading how we get around this state–is," Lamont said, stressing Bridgeport's role as a regional hub. "If we can get this state moving again, we can get this state growing again."

The governor embarked on the last car of the 8:19 out of Union Station in New Haven, slowly working his way forward, into a middle car during the 28-minute ride, which culminated in a cheerleading news conference led by Mayor Joe Ganim in the city's Transportation Center.

United States Sen. Richard Blumenthal said that transportation funding has essentially been frozen in the myriad controversies in Washington. "The federal government is failing you," he said. "It is failing all of us. It is failing to provide the investment in rail, roads, bridges, airports, VA facilities, schools. It is failing every state, not just Connecticut."

Lamont predicted noticeable improvements in mass transit over the next four years, particular if Congress and the president can finally get together on a national infrastructure program. During the 15-minute news conference, none of the speakers mentioned the word "tolls"–which Lamont hopes to be a major source of revenue, up to $800 million a year–until a reporter asked the governor.
Full story here.
News release from Lamont:
Governor Ned Lamont today said that the New Haven Line, which connects rail commuters in areas along the southwestern Connecticut coast from New Haven to New York City, is a critical resource in the region and for the sake of the state's future and the thousands of jobs it supports, it needs to be maintained and fully modernized in order to best capitalize on the economic benefits it can provide Connecticut residents.

Speaking early this morning with a group of transit advocates who joined together for a rally in support of the state's rail system at the Bridgeport Transportation Center, Governor Lamont explained that while rail lines throughout the world have been taking advantage of the latest technologies that improve speed and safety, trains on the New Haven Line are now moving at speeds that are slower than they were even decades ago, due in part to speed restrictions as a result of the aging tracks and bridges along the corridor.

"The New Haven Line is a gem of a resource that hundreds of thousands of Connecticut residents depend on for their livelihoods, and for the sake of our economy we cannot let it fall into a state of disrepair," Governor Lamont said. "Our aging infrastructure is slowing our state's transportation system down and causing significant congestion–and it's impacting us economically. Connecticut residents spend 81,845 hours stuck in traffic annually. This damages our reputation and impacts the decisions businesses make when they are considering locations for growth. In order to get Connecticut growing again, we need to get Connecticut moving again."

The New Haven Line is the busiest commuter rail line in America. Ridership over the last several years has continued to steadily climb. In 2016, it hit a peak with a total of 40.5 million passenger trips during the year, and the numbers have continued to hold steady since.

Over the last decade, the state has made hundreds of millions of dollars' worth of investments in the rail line, including $128 million to replace the overhead, catenary power lines as part of an overall $488 million power line replacement program to improve service and reliability. The state has also recently made upgrades to platforms and amenities at various stations along the line, including in Noroton Heights, Darien, and Stamford. The most notable investment over the last decade has been putting into service over 400 new, state-of-the-art M8 railcars, which replaced the nearly 40-year-old railcars that had long outlived their service lives.

The New Haven Line is owned by the State of Connecticut and operated by Metro-North Railroad under contract with the Connecticut Department of Transportation. In addition to its main corridor from New Haven to New York City, it also consists of three branch lines to New Canaan, Danbury, and Waterbury. It is the oldest of Connecticut's three commuter rail lines. Shore Line East operates along the southeastern Connecticut coast, serving points between New Haven and New London. The Hartford Line, which opened for service in June 2018, serves the central Connecticut corridor from points between New Haven, Hartford, and Springfield, Massachusetts.

Funding Connecticut's transportation system
With gasoline taxes, which serve as the primary source of funding for the state's transportation system, delivering less dollars, budget analysts for years have been warning that Connecticut's transportation fund–along with a number of other states throughout the country–is on track to become insolvent unless a new revenue structure is created.

Governor Lamont said that he does not support raising the gasoline tax, which he believes is already too high, nor the use of "priority bonding" that would borrow to support transportation funding and add to the state's debt.

In his budget address earlier this month, the governor began a discussion with the legislature on returning tolls to Connecticut, which had been removed in 1985. Connecticut is one of only two states on the eastern portion of the country that does not have a system of tolling to support its transportation system.

Governor Lamont put forward two options–one that would toll only trucks and could generate $200 million annually if applied to all of the state's major highways, and a second option that would apply to both trucks and cars, and generate $800 million annually, under which Connecticut drivers who frequently travel on major roadways in the state would receive a maximized discount.

Estimates say that about 40 percent of tolling revenue for Connecticut could come from out-of-state drivers. "We foot the bill when we travel through neighboring states, it's time out-of-state drivers do the same for Connecticut," Governor Lamont told lawmakers during his budget address.

The proposals are currently being considered by the General Assembly.