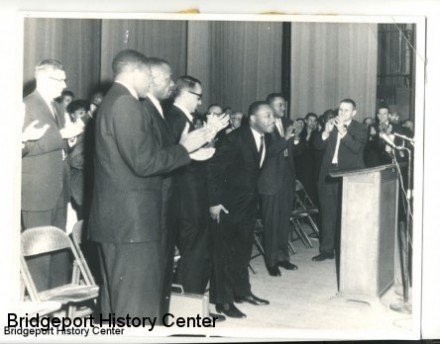 From Hearst Connecticut Media:
The contrast of leadership between a man fighting peacefully for equality and a president cruelly excluding swaths of people based on their country of origin or religion could not be more stark than on the occasion of Dr. Martin Luther King's birthday Monday.
… Who speaks to your ideal self? The leader of a movement for social justice or the self-proclaimed "Ernest Hemingway of 140 characters"?

"We must learn to live together as brothers or perish together as fools." Martin Luther King Jr.

"When somebody challenges you, fight back. Be brutal, be tough." Donald J. Trump

"I am not interested in power for power's sake, but I'm interested in power that is moral, that is right and that is good." Martin Luther King Jr.

"My whole life is about winning. I don't lose often. I almost never lose." Donald J. Trump

"I refuse to accept the view that mankind is so tragically bound to the starless midnight of racism and war that the bright daybreak of peace and brotherhood can never become a reality." Martin Luther King Jr.

"What about the alt-left that came charging at, as you say, the alt-right, do they have any semblance of guilt? … Do they have any problem? I think they do. So as far as I'm concerned that was a horrible, horrible day. Wait a minute, I'm not finished, fake news." Donald J. Trump.
Full editorial here.