Superior Court Judge Barry Stevens on Monday denied the city's motion to dismiss the lawsuit challenging the September 10 primary results alleging absentee ballot irregularities. On Tuesday the judge will hear evidence to determine if the ballot irregularities altered the results of the primary. See primaryresultcomplaint.
At issue in the motion to dismiss was the legal standing of the three plaintiffs. The judge sided with the plaintiffs in a lawsuit that was assisted by Bridgeport Generation Now Votes.
The judge has stated he wants to stay on the statutory calendar that calls for absentee ballots to be ready for the November 5th general election on Friday, a tight timeline.
The plaintiffs, in the lawsuit, want the judge to schedule a new Democratic primary in which State Senator Marilyn Moore won the machine count but was defeated by Mayor Joe Ganim by absentee ballots. Ganim won by 270 votes.
See below excerpts from both the motion to dismiss by the city and opposition to the motion by the plaintiffs' attorneys.
To read full court filings see citymotiontodismiss as well as oppositiontomotion.
Excerpt from motion to dismiss by Deputy City Attorney John Bohannon: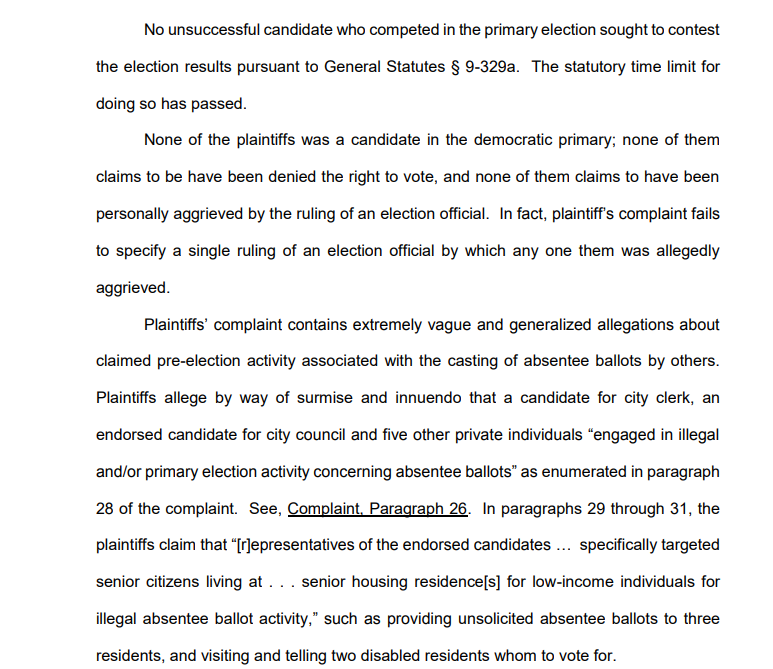 Excerpt from plaintiffs' opposition to motion: