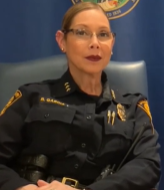 From Dan Tepfer, CT Post:
A Superior Court judge Thursday refused to immediately block the transfer of three city police captains.

"The plaintiffs' application for ex parte injunctive relief is denied on the grounds that the allegations of the complaint do not sufficiently evidence an irreparable injury that is so imminent or immediate that the defendants should not receive an opportunity to be heard," Judge Barry Stevens ruled.

The judge then directed his clerk to schedule the case for a remote status/scheduling conference. No hearing date was immediately set.

Acting Police Chief Rebeca Garcia recently ordered Capt. Brian Fitzgerald, head of the Detective Bureau, transferred to patrol; Capt. Roderick Porter, head of community services, to patrol; Capt. Kevin Gilleran from special services to head of the Detective Bureau; Capt. Steven Lougal from patrol to special services and Capt. Lonnie Blackwell from patrol to administrative services.
Full story here.