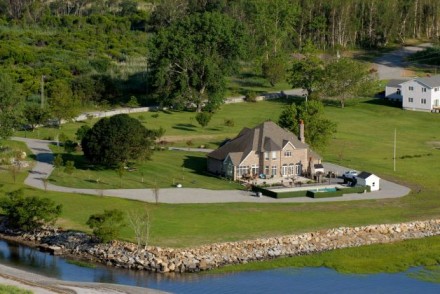 UPDATE, includes judge's written decision: Superior Court Judge Dale Radcliffe on Tuesday ruled that Bridgeport-based developer Manny Moutinho did not prove he had a hardship necessary that led to the controversial $400,000 taxpayer-paid driveway to his Stratford mansion, overturning a decision by the Stratford zoning commission, as part of an airport improvement project. From the judge's ruling:

"Neither the taxpayers of Bridgeport, which owns the property over which the easement passes, or their Stratford counterparts, the host municipality, are obligated to contribute to the upgrade, maintenance or repair of the right of way deeded to MTM Builders' predecessors in title, by the City of Bridgeport … Although the City of Bridgeport reserved the right to relocate the easement, that right is conditioned, pursuant to the Easement Agreement … upon the "… mutual consent of the Grantees as to the new location of the easement." The City cannot act unilaterally, and a mediator is authorized to select a new location, should there be no agreement between the parties to the Easement Agreement.

The fact that the owner of the property, the City of Bridgeport, desires to move the easement, and that MTM Builders is in agreement, does not establish hardship. Simply because a new location might be more convenient to the holders of the easement, or more conducive to the future development of MTM's property, is not a valid basis for a finding of hardship which is necessary to justify the granting of a variance.
Judge Radcliffe's written decision here.
The city moved forward on financing the $400,000 driveway knowing an appeal was pending. Now what? An appeal of Radcliffe's decision? Even more explaining to do from the city.
Statement from City Attorney Mark Anastasi: "The City is reviewing the court's decision, as we are certain the named defendants are also doing, and we will determine an appropriate course of action."