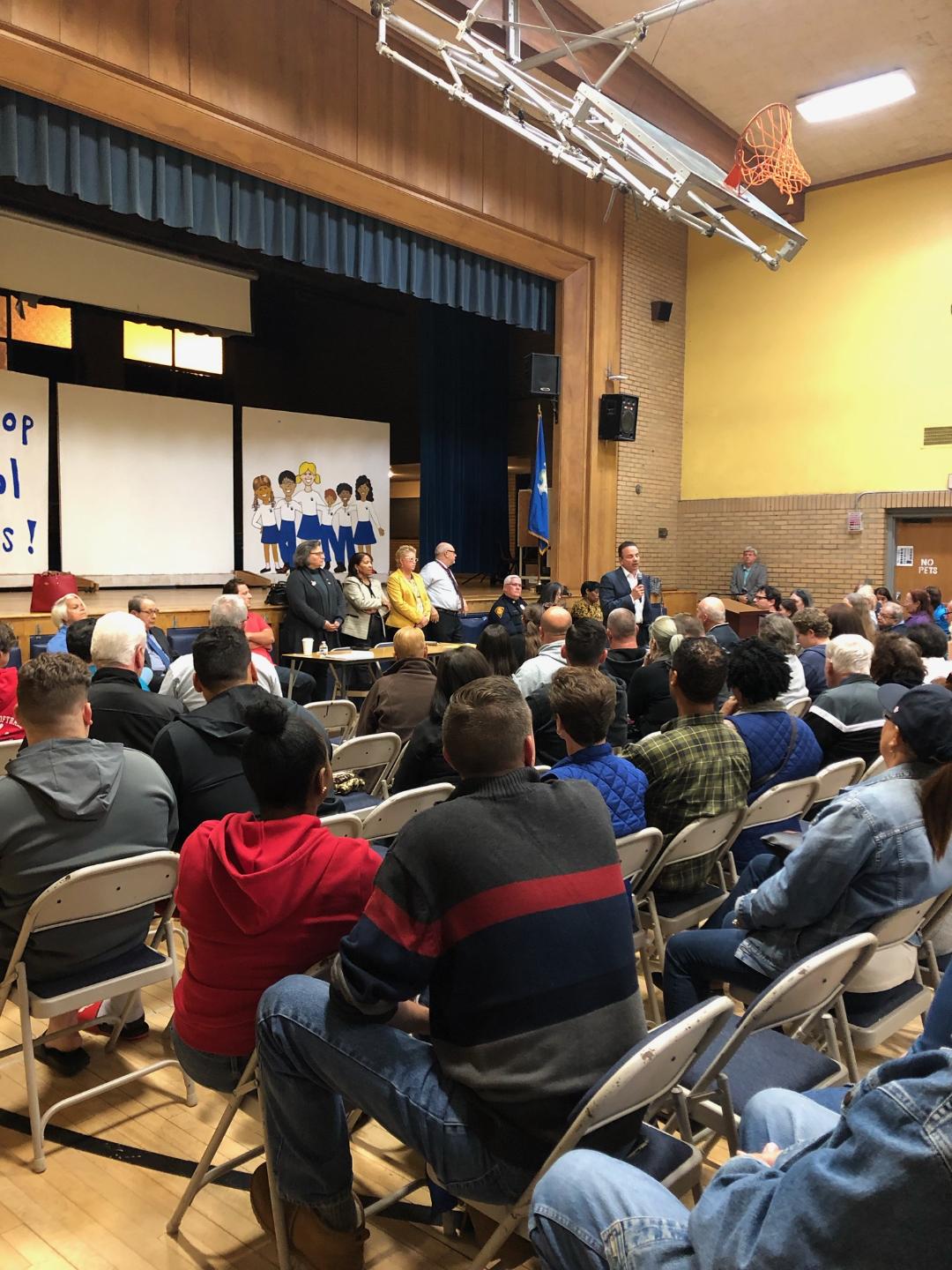 Retired Superior Court Judge Carmen Lopez has a message for Sacred Heart University rooted in scripture: … when you give to the needy, do not let your left hand know what your right hand is doing, so that your giving may be in secret. And your Father, who sees what is done in secret will reward you.
I just finished reading Mr. Larry Wielk's commentary, published in Only in Bridgeport. Mr. Wielk is the Dean of Students at Sacred Heart University. He obviously wrote this article as a response to the negative publicity generated by the current unacceptable behavior exhibited by students living in rental housing in the North End.

Sacred Heart University is a Catholic institution of higher learning governed by a distinguished and elite Board of Directors. This Board is responsible for articulating the University's mission statement, as well as its positions on policy. The University's mission statement and core values are set forth on the University web page.

Sacred Heart University describes its mission as one "rooted in the Catholic intellectual tradition and the liberal arts." It "embraces a vision for social justice" while it "educates students in mind, body and spirit." It asserts that it operates with a set of core values that include, "Promotion of the common good of society and recognition of the dignity and worth of every human being." Furthermore, the University states that it is "cultivating a campus community that is recognized as caring and creative."

To the extent that Mr. Wielk speaks for the University, he is woefully out of step with both its mission statement and its Catholic tradition. His comments reek of pride, arrogance and self-righteousness. Indeed, his sentiments reflect those of the "noblesse oblige;" those privileged and special human beings burdened with the responsibility of acting with generosity and nobility toward those less privileged than they.

His litany of good deeds provides no relief for those North End residents who have seen their neighborhoods invaded and their quiet enjoyment disturbed by the behavior of transient students.

Cleaning parks, establishing mentoring programs and charitable works, however noble, provide no solace to someone awakened in the early morning hours by raucous parties, or an individual put at risk through the reckless use of city streets.

Instead of wrapping itself in a cloak of self-righteous piety, the University should be having an eye-level conversation with North End residents, in a sincere attempt to solve what everyone admits is a serious problem.

While I was born in Puerto Rico, I came to Bridgeport when I was barely two years old. This is the town in which I have my roots. It allowed me to own and operate a successful law practice, and honored me, by allowing me to serve as a judge of the Superior Court. My dad worked the night shift at the GE plant on Boston Avenue and together with my mother saved to purchase their home in the North End. Their experience is the experience of many Bridgeport residents.

Mr. Wielk's comments are offensive and disturbing to those of us who love Bridgeport. His disrespect and disdain for Bridgeport begins with his first sentence, where he states that the proposal to limit the number of unrelated people who can live together in a house or apartment, was proposed by "local politicians," rather than by elected officials.

Whether he accepts it or not, Michelle Lyons and AmyMarie Vizzo-Panniccia were elected by the voters in their North End district. Clearly, they are politicians, but they are also elected officials serving on Bridgeport's legislative body. They should be referred to by University elites with respect.

To most Bridgeporters, this attitude provides additional evidence confirming SHU's unwillingness and incapacity to meaningfully address the concerns of residents of the North End. This elitist disdain for Bridgeport elected officials, as well as the residents, can only exacerbate an already acrimonious situation.

St. Augustine, the revered Catholic theologian, said it best, "It was pride that changed angels into devils; it is humility that makes men as angels."

For years, residents have requested cooperation from the University to address violations of zoning laws and other quality of life issues. For years, Mr. Wielk has been consistent in his response to the residents.

On the eve of the 2009 municipal election, November 2, 2009, the CT Post published an essay written by this same Larry Wielk, which responded to an opinion piece asking the University to "Take action on partying students."

Although the problem has increased in the intervening decade, Mr. Wielk's rhetoric has remained constant. Apparently, he dusted off his 2009 article and submitted it again in 2019.

In both publications, he highlights the acts of charity bestowed on the poor and unfortunate residents of Bridgeport by SHU students. This year he reminds us that "students have laid down a challenge to the North End Political leaders who have been so vocal: Match us turkey for turkey," a reference to the annual turkey drive.

Sadly, he has missed that part of Jesus' teachings found in Matthew 6:2-4:

"So when you give to the needy, do not sound a trumpet before you, as the hypocrites do in the synagogues and on the streets, to be honored by men. Truly I tell you, they already have their full reward. But when you give to the needy, do not let your left hand know what your right hand is doing, so that your giving may be in secret. And your Father, who sees what is done in secret will reward you."

If Mr. Wielk's condescending arrogance is not endorsed by SHU's Board of Directors and its administration, they should say so plainly and repudiate his statement.