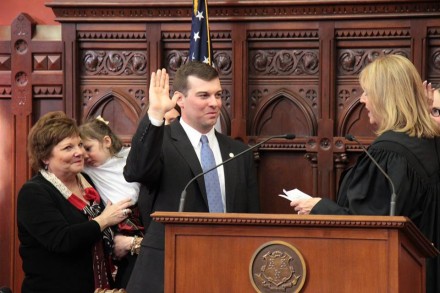 It's not often the person you replace in the state legislature issues the oath of office. That happened Friday when Steve Stafstrom raised his hand before his predecessor, Superior Court Judge Auden Grogins whom he followed to represent Connecticut's 129th State House District in Bridgeport.

Grogins represented the district for six years until she was appointed to the bench by Governor Dan Malloy. Democrat Stafstrom defeated Republican Enrique Torres in a tight special election on Tuesday.
Stafstrom, 32 years old, joins the General Assembly two months into the session that ends in June. He's an attorney with the Bridgeport-based law firm Pullman & Comley.