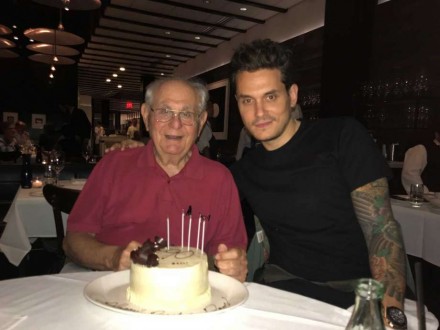 Long before Bridgeport-born guitar wizard John Mayer's bluesy strings and voice built an international following, his dad was an educator in the city school system. Hard to believe that Mayer turns 40 on Monday. In celebration of his father Richard's 90th birthday John established a college scholarship to benefit city students.

From Macaela J. Bennett, CT Post:
This week the Fairfield County native and singer-songwriter told his father, Richard Mayer, that his more than four decades as a Bridgeport educator would not soon be forgotten. To celebrate his father's 90th birthday, which was a few days before John Mayer turns 40 on Monday, the songwriter set up a college scholarship fund through Fairfield County's Community Foundation to commemorate his dad's legacy.

The Richard Mayer Scholarship Fund will launch next spring, according to the foundation. Graduates from Bridgeport public high schools, including Central and Harding at which Richard Mayer worked, will be eligible to apply for the four-year scholarship.
Full story here.