What do you think about Ned Lamont jumping into the race for governor?
The candidate sensation from 2006 who defeated U.S. Senator Joe Lieberman in a Democratic primary only to lose to Joe's independent candidacy thanks to the entire GOP state establishment including Governor Jodi Rell tanking the Republican candidate Alan Schlesinger (wonder if they'd do that again) is giving it some thought.
Veteran reporter Mark Pazniokas, a casualty of the Hartford Courant's layoff chainsaw last week, wrote a revealing piece for The New York Times on Thursday in which Ned signaled his interest to run for the state's top spot. Ned would add a whole new dimension to the race, someone with potent union support and, in fact, Ned crowed about bringing the unions to the table as a solution to the state's budget woes.
Really? Ned may be a successful business dude but at heart he's an old-time liberal's liberal. I don't see him calling on unions to reach deep into their pockets to help close the state budget deficit while he's courting their support for a primary battle. We'll see.
The Democratic lineup thus far for 2010 is Connecticut Secretary of State Susan Bysiewicz, former House Speaker and Bridgeport native Jim Amann and Stamford Mayor Dan Malloy, the 2006 endorsed candidate for governor who was knocked off in a primary by New Haven Mayor John DeStefano who was croaked by Governor Rell.
I see SuBy taking this thing to the convention and waging a primary if she's not the endorsed candidate. She's a relentless campaigner with a history of primary success. Ned may be another in a line of Democratic ultra libs (Bill Curry, DeStefano) that perform well in a primary only to drown in a sea of Connecticut independent voters.
Of course, this assumes Jodi Rell will seek reelection. If she doesn't, new ball game.
But I wonder what OIB friends such as John from Black Rock think of Ned getting into this thing. John is a pretty good barometer.
Party With OIB
I'm excited, less than a week until the first anniversary OIB party. Join us next Thursday, 6 p.m. at Matty's Corner at Fairfield Avenue and Brewster Street in that cool hamlet we call Black Rock. The first cocktail is on OIB. Better yet, 6 to 7 p.m. is happy hour. More better yet, proprietor Danny Roach is throwing us a spread. Yeah baby, free food. Please, someone tell State Rep. Chris Caruso about this. Will Chris be stuck in Hartford?
Since we're turning the clocks ahead this weekend and advancing toward spring, we can actually take advantage of natural light inside Matty's. Vitamin D, that's what we need, to complement the proprietor's spirits.
When you're done with us, or before you join us that night, check out OIB friend Eileen Walsh's artist reception at The Gallery at Black Rock for the work of Jessica Bajoros. The Gallery at Black Rock is 2861 Fairfield Avenue. Let's support Eileen and her new gallery. See Jessica's work below.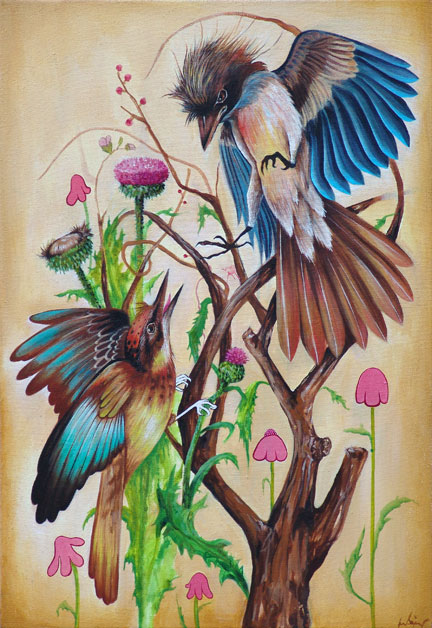 Marty Wants You
On Monday, at 5:15 p.m. the Bridgeport Film Club will screen Golden Door, a multiple-award-winning feature film about Sicilian immigration to America. The free showing is at Bridgeport Public Library, north branch, 3455 Madison Avenue.
I'm told that Martin Scorsese thinks so highly of this film that he personally sponsored the release of it on DVD.
News release from Congressman Himes
Himes Announces Recovery Funding for Public Safety, Crime Prevention

WASHINGTON, DC – Congressman Jim Himes (CT-4) today announced $2.4 million in funding for local law enforcement and crime prevention for communities in Connecticut's 4th District, including $1.6 million for the City of Bridgeport, through the Edward Byrne Memorial Justice Assistance Grant (JAG) Program. The funding is part of a national Department of Justice investment including more than $4 billion for state and local law enforcement and other criminal and juvenile justice activities. Connecticut will receive a total $20.5 million. A complete list of community-specific grants follows this release, and an additional $12.5 million will go directly to the state of Connecticut.

"Just weeks after President Obama signed the Recovery Act into law, money is flowing into our communities to improve our safety and create jobs," said Congressman Himes. "Step by step, we're improving the quality of life in our cities and towns."

The JAG Program, administered by OJP's Bureau of Justice Assistance, allows states and local governments to support a broad range of activities to prevent and control crime and improve the criminal justice system. The procedure for allocating JAG grants is based on a formula of population and violent crime statistics, in combination with a minimum allocation to ensure that each state and territory receives an appropriate share of funding. Sixty percent of the allocation is awarded to the state and 40 percent is set aside for units of local governments.

"I want to thank President Obama and Congressman Himes for securing these funds for the citizens of Bridgeport," said Bridgeport Mayor Bill Finch. "Maintaining public safety is a top priority of my administration and this funding will enable our Police Department to continue to enhance our community policing efforts, especially in the area of education and training."

Funding that is awarded directly to the state will be administered by a State Administering Agency (SAA) which will then set priorities and allocate funds within that state. Additional information about SAAs can be found at www.ojp.usdoj.gov/saa/index.htm.

Communities in the 4th district receiving direct JAG grants include:

Bridgeport $1,612,284

Darien $17,798

Fairfield $36,992

Greenwich $23,033

Norwalk $328,390

Shelton $21,288

Stamford $374,106

Trumbull $17,100

Westport $13,959