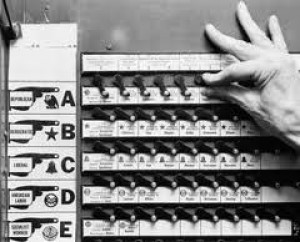 I walked into City Hall Annex Tuesday afternoon and there's Mayor Bill Finch chatting with city personnel in the lobby. "Hey, Lennie, you going to see the paint dry?"
"Yes mayor, I brought along my roller."
Watching paint dry translates into local election officials and volunteers counting more than 20,000 ballots, or something like that, all under the guise of transparency (the government) or headlines (the Connecticut Post) or whatever. More than a dozen folks were counting because the Post prevailed upon the mayor (against legal opinion) to recount the ballots that became national news. I think the votes need to be recounted, the mayor is correct in doing this, just to make sure sanity prevails over Election Day chaos. I'm not crazy, however, about the media dictating governmental action, the mayor could have done this without the point of a Post bayonet, and there's an air in the room based on chatting with folks that this is a Connecticut Post recount, and not one dictated by the government.

When I arrived it was lunch time, although some folks were busy working through voting precincts. Democratic Registrar Sandi Ayala was sitting alone with her lunch so I pulled up alongside to say hello. She was gracious in greeting me. I'd not blame her, given the media madness, if she turned away. She said pull up a chair and we exchanged some small talk. And then we both sort of said at the same time, looking out among the counting and the ballots and tables, "Can you believe this?"
"Sandi, getting any sleep?"
"Oh, I'm trying to catch up."
And then I saw Republican Registrar Joe Borges whose tenure as GOP elections chief officially ends the beginning of January. Joe's moving on to other things. He too was gracious, as he bit into his sandwich. Joe knows more ballots printed on Election Day should have avoided this surreality. But I asked Joe if he thought this recount thing was driven by the media. He nodded yes. "Maybe this process will be an eye opener for the work that goes into an election," he said. And as I looked around the room it had a feeling of chipping stone. Chip, chip, chip … count, count, count.
Joe, I asked, is this really about transparency or headlines? Joe smiled and said it's all about selling papers. Then he finished his sandwich and went back to work.
But what if this review uncovers something dramatic such as a major discrepancy in vote totals? Now we're talking transparency, revelation and lots of papers sold!