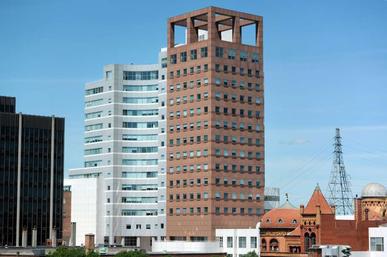 M&T Bank CEO Rene Jones, in response to job concerns raised by Connecticut Attorney General William Tong in its purchase of People's United Bank, declared "the bank will devote funds to refurbish and revitalize the building and the surrounding area."
From Tong:
In a written response to Attorney General William Tong's August 2 letter, M&T Bank made a commitment to Connecticut jobs and to Bridgeport as its New England regional headquarters.

Attorney General Tong had written to leadership of M&T Bank and People's United Bank seeking detailed information regarding efforts to mitigate job losses and adverse economic impacts to Connecticut workers and communities. Last month, M&T shocked many when it provided notice to the Connecticut Department of Labor that it anticipated 747 layoffs of Connecticut employees should regulators approve the proposed merger with People's Bank.

"M&T Bank is making a significant public commitment to Connecticut jobs, and to the City of Bridgeport in this letter. This is an important step forward after weeks of mixed messages and confusion. I appreciate the commitments made by M&T Bank to Bridgeport and to Connecticut in this letter, but my work is not done. I will be watching their actions closely to ensure local jobs are protected and Connecticut communities remain a priority," said Attorney General Tong. "I look forward to continued discussions with M&T and other stakeholders, including the City of Bridgeport.

Attorney General Tong's August 2 letter sought comprehensive written responses to a series of questions regarding job retention, mitigation of adverse economic impacts, and corporate responsibility obligations, in addition to a meeting with bank leadership. That meeting took place on August 4, and was attended by leaders from People's United Bank, M&T Bank, representatives of the Office of the Attorney General and state and local officials.
Excerpt letter from M&T's CEO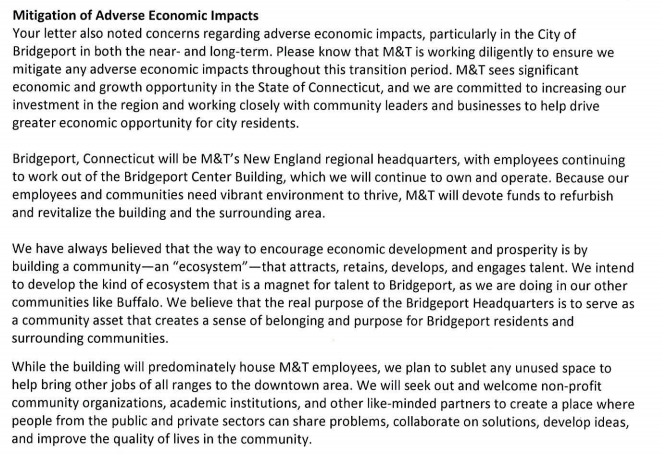 See full written response.