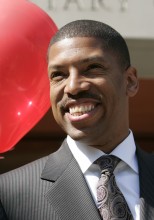 Kevin Johnson, mayor of Sacramento, CA and husband of education reform advocate Michelle Rhee, will visit Bridgeport on Sunday as Mayor Bill Finch amps up his effort to persuade city electors to support a yes vote on the Nov. 6 charter question that if approved would grant him the power to appoint members to the Board of Education.

Rhee, founder of Students First, is a national lightning rod for school reform.  She says the American education system is broke and has built a national movement that has angered teachers unions for her positions on testing and evaluations, some of which were debated heavily in the Connecticut legislature this year following Governor Dannel Malloy's education reform act proposals.
Students First is the latest organization entering the mayor's effort to appoint school board members that requires a charter change approved by voters. Students First is helping to mobilize a voter outreach emphasizing a yes vote to the charter question. Excel Bridgeport, an organization formed more than a year ago financed by Fairfield County business interests, is also engaged in voter persuasion.
Several organizations are working against the ballot question including the Bridgeport Education Association, Bridgeport Child Advocacy Coalition, Connecticut Citizens Action Group, as well as a variety of city pols such as former State Senator Ernie Newton, outgoing State Senator Ed Gomes, East End District Leader Ralph Ford and some pastors affiliated with the Interdenominational Ministerial Alliance that are framing a yes vote as a vote against democracy.
Johnson will join Finch and Superintendent of Schools Paul Vallas to discuss "education reform" on Sunday, 3:30 p.m. at Jettie Tisdale School, 250 Hollister Avenue. The public is invited to attend, according to a news release issued by the mayor's office.
Johnson was a star in the National Basketball Association and is now considered a rising star in national politics. He was elected mayor of Sacramento in 2008. He has been moving around the country visiting cities to share his ideas on education, no doubt with an assist from Rhee.
More on Rhee and Students First here.