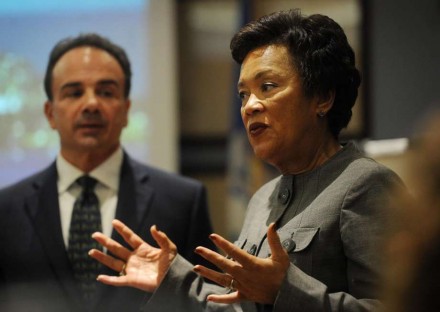 If you want a third term for Governor Dan Malloy, Hartford Mayor Luke Bronin is your guy. Maybe that's why Malloy has engineered a massive debt bailout for Hartford's Bronin who's eyeing the governor's office. What's Malloy doing for Bridgeport, the state's largest city? Republican gubernatorial candidate former Trumbull First Selectman Tim Herbst calls the deal for Malloy's "hand-picked successor" irresponsible. Mayor Joe Ganim and New Haven Mayor Toni Harp who run Connecticut's two largest cities assert their cities are shortchanged for a favorite son.

"While most Connecticut cities and towns have responsibly managed their finances, despite savage cuts from Hartford, the city run by Gov. Malloy's hand-picked successor for governor has barreled toward bankruptcy on the expectation of a bailout from struggling Connecticut taxpayers," Herbst said. "It is the latest slap in the face to struggling Connecticut taxpayers for Gov. Malloy and his insider allies in Hartford to hand an irresponsibly managed city a $550 million bailout, while simultaneously proposing new damaging tax hikes and fees and further savage cuts to education for dozens of well-managed municipalities to close the state budget deficit," Herbst continued.

"Our entire state is barreling toward the same bankrupt fate as the capital city if we do not elect a proven reformer and Hartford outsider to tackle Connecticut's fiscal crisis head-on, upend business-as-usual under the Gold Dome and reverse the job-crushing agenda of the last eight years," Herbst said. "It's long past time for Connecticut taxpayers to have a champion for them rather than the broken status quo in Hartford."
From the Hartford Courant:
The two Democrats issued a joint statement Friday questioning the fairness of the bailout, perhaps looking for leverage to get a Bridgeport MGM casino approved. The privately funded project includes an employee training center in New Haven.

"It seems the state continues to shortchange New Haven and Bridgeport–its two largest cities, with comparatively stable finances, while rewarding the past practices of other cities that put them on the edge of financial collapse," Ganim and Harp said.
Full story here.
Full statement from Ganim and Harp:
"While we evaluate the state's new, half-billion-dollar bailout of Hartford, and recognize it as an acknowledgement of the responsibility the state has to assist its structurally, and perpetually distressed cities, we question whether it represents an equitable practice.

Connecticut absolutely must have a consistent, comprehensive urban policy to lift all cities constrained by current tax laws, now compounded by tens of millions of dollars in state budget cuts.

It seems the state continues to shortchange New Haven and Bridgeport–its two largest cities, with comparatively stable finances, while rewarding the past practices of other cities that put them on the edge of financial collapse.

Connecticut requires comparable support for its two most populous urban centers and an economic development strategy for the Bridgeport/New Haven region. We'll meet next week and present a consistent municipal aid program for all cities in the state."