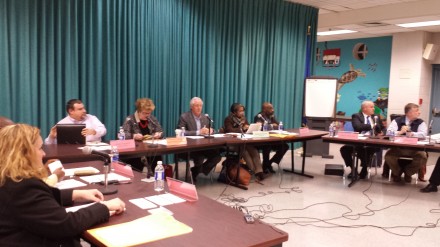 Update: includes video. Retired school teacher Dave Hennessey Monday night became the fourth Board of Education leader in less than four years, defeating incumbent Sauda Baraka in a 6-3 vote at the Aquaculture School and further splitting a coalition that helped elect the two last year. The meeting was chaired by Mayor Bill Finch.

Prior to the vote three public speakers weighed in including former school board member Maria Pereira who urged the reappointment of Baraka saying "her word can be taken to the bank. Her vote, values and core principles were never for sale."
Hennessey, a Democrat and former City Councilman from Black Rock, was elected to the school board last year with Andre Baker and Howard Gardner, defeating the endorsed candidates in a primary, in an alliance with Connecticut's Working Families Party on whose line Baraka has appeared twice. The coalition control between insurgent Democrats and the WFP was short-lived due to various education issues and personality conflicts.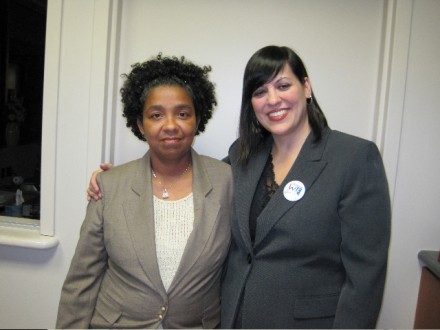 Hennessy's name was placed into nomination by former school board president Ken Moales who replaced Jacqui Kelleher as school board leader. Baraka replaced Moales one year ago. Moales, an African American, proclaimed Hennessey "is not my color but he is my kind," adding Hennessey is respected in the community including leadership of the Bridgeport Education Association teachers union.
Howard Gardner placed Baraka's name into nomination asserting some people don't want to take direction from a strong woman, particularly a "black woman."
Hennessey was backed by himself, Moales, Joe Larcheveque, Hernan Illingworth, Andre Baker and Kadisha Coates, the newest member of the board. Baraka, in addition to her own vote, was backed by Gardner and Jacqui Kelleher.
Larcheveque, the one Republican on the board, was elected vice chair, replacing Kelleher.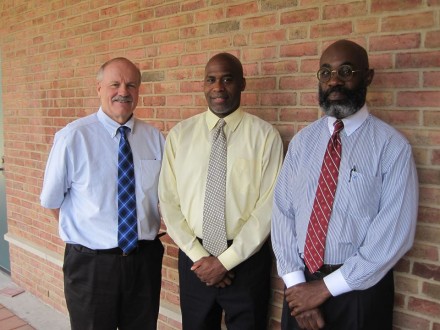 Pereira has not been bashful about displeasure for Hennessey and Baker who she says betrayed core values in supporting Coates, a supporter of charter schools, to fill the vacancy left by John Bagley. During her remarks Monday, Pereira warned, "You may very well receive your crown tonight, but please know you do so without a broad base of community support and the vast majority of us that worked so hard to get you elected have already started the process of organizing to make sure your crown is stripped away 12 months from now."
Pereira posted this comment on OIB a few days ago:
If Dishonest Dave Hennessey receives the votes to win the chairmanship, it is because he sold his soul to get the five votes. He could not get the five votes unless he voted for charter school parent and advocate Kadisha Coates. I know it, he knows it and just about every politically active person in Bridgeport knows it. Dishonest Dave's word means absolutely nothing and he betrayed all of those who worked to elect him. There is a price that must come with betrayal.

Sauda Baraka has been elected three times by the electorate and has nine years of experience on the BBOE. Dave Hennessey and Joe Larcheveque have one year and never attended BBOE meetings until they decided they wanted to run for the BBOE.

If either Dave or Joe are elected chair on Monday, my absolute commitment is it will fuel many to make sure 12 months later they will lose their crown.

Sincerely yours,

Maria Piranha
Megan DeSombre from Education Bridgeport shares these video clips, first one features Pereira uttering "scumbags" a reference presumably toward a majority of school board members about to cast a vote for Dave Hennessey. Second clip shows Hennessey issuing his first statement in prepared remarks as board chairman.