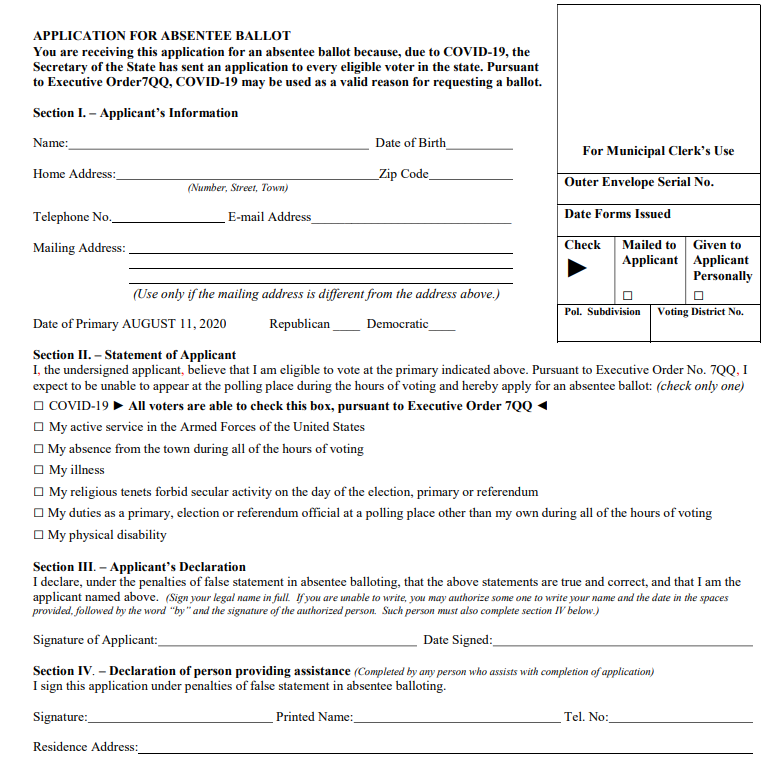 For the first time Connecticut electors registered with a party may vote by absentee ballot in the August 11 primaries due to the COVID-19 virus as a result of Governor Ned Lamont's executive order.
As noted above, simply check the COVID-19 box on the absentee ballot application that has hit most voting households in the state.
If you haven't received one they are also available here
The Office of the Connecticut Secretary of the State mailed the applications that included a postage paid return envelope to the local town clerk. The actual absentee ballots will be available July 21st, three weeks from primary day, mailed to voters by respective town clerks.
In-person voting will still be available, but it's expected that a high proportion of voting will come via absentee.
Locally the Democratic races to watch: Endorsed City Councilman Marcus Brown versus incumbent State Senator Marilyn Moore in the city-suburban 22nd District; Downtown businessman Kelvin Ayala challenging incumbent State Rep. Antonio Felipe in the 130th District covering Downtown, South End and portions of the East Side and West End; Tony Barr taking on incumbent State Rep. Charlie Stallworth in the 126 District that includes Whiskey Hill, portions of the North End and Upper East Side.
Three other State House candidates who did not qualify for the ballot because of petitioning snafus Bob Keeley, Wanda Simmons and Bob Halstead are asking courts to order ballot access.