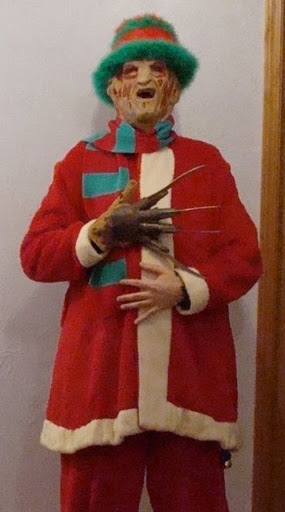 Another crazy year in the state's largest city and just in time because a lot of us are out of breath. Snow storm after snow storm, an elected school board that said we're outta here, replaced by a state-appointed body, a Democratic mayoral primary that was on, then off, then on again. After a year like this Santa must spread love, goodwill, peace on earth to all our favorite city pols and city officials. OIB correspondent Jim Callahan helped OIB track down Santa for a stocking-stuffer exclusive:

City Council: an all-expenses-paid fact-finding mission to Yale University sponsored by the New England Journal of Medicine to determine once and for all which members are brain dead or merely in a persistent vegetative state. (We're open to suggestions.)
City Councilman Bob Curwen: his old job back at DiNardo Enterprises, after the city job he had, that he said he really didn't have, didn't work out. What's that, it already happened? Added stocking-stuffer bonus for Curwen: a shot of truth serum.
Police Chief Joe Gaudett and Fire Chief Brian Rooney: collect their pensions while remaining on the job. Oh, that already happened too!
Councilwoman Lydia Martinez: an official certificate of the Superior Court notifying Lydia of her outstanding contributions to the electoral process in the City of Bridgeport, with all the appropriate signatures, etc. No absentee ballot required.
Former City Councilman Bob "Troll" Walsh: a blood transfusion from Mr. Rogers. "It's a beautiful day in this neighborhood …"
City Council President Tom McCarthy: a Blackberry to return OIB phone calls.
Santa Ayala: unanimous endorsement by the Democratic Town Committee for a new term as Democratic Registrar of Voters. Some historic community assets must be preserved at all costs.
Democratic Town Chair Mario Testa: Steven Tyler to wake him from his afternoon siesta. (There's a screamy thought.)
Interim Superintendent of Schools Paul Vallas: anything he wants.
Vallas' chief assistant Sandra Kase: anything she wants.
Mayor Bill Finch and Trumbull First Selectman Tim Herbst: peace pipes.
Former State Rep. Chris "Big Wave" Caruso: a legal name change by Probate Judge Paul Ganim to the "Big Wage."
Mary-Jane Foster's Campaign Manager Jason Bartlett: a cash infusion to pay all the campaign hands he stiffed.
Let us know whom we missed!