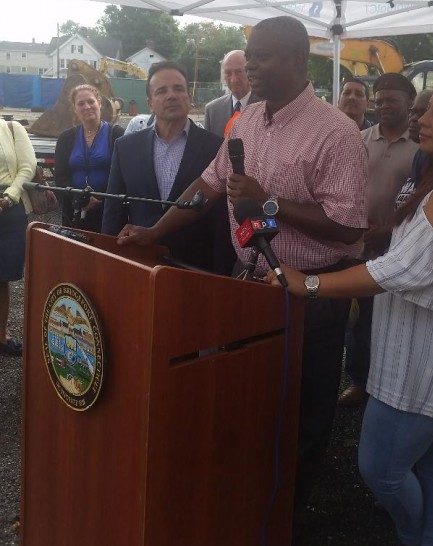 Anthony Stewart, managing partner of city-based Ashlar Construction, has joined forces with Bridgeport Landing Development, operators of the Steelpointe Harbor redevelopment area, as equity partners for a $7 million investment in the East End that will include a Gala Foods grocery store. Groundbreaking is expected in July.
CT Post reporter Jordan Grice has more:
Within the next couple of weeks, developers of the Civic Block retail plaza should have a final design for the project. The $7 million project at 1206 Stratford Ave. is slated to bring retail and a long-awaited grocery store to the neighborhood.

"We are still going through the design phase of the actual retail building and the grocery store, so that's all good," said Anthony Stewart, principal of Bridgeport-based Ashlar Construction, which city officials selected in the fall to take point on the project.

As part of the East End NRZ plan, the block bordered by Stratford, Newfield and Central Avenue has been the target for large-scale transformation into a commercial plaza heading into the East End. Touted as the anchor project for the neighborhood's revitalization, the Civic Block will include a 16,000-square-foot Gala Foods Supermarket, which has been a long-standing demand from residents and community leaders.

Another 15,000 square feet of the project will house retail storefronts. More than a dozen businesses were vying for space at the development when it was announced in September, including a pharmacy, restaurants, and Optimus Health Care, a primary-care provider with three other locations in Bridgeport.
Full story  here.