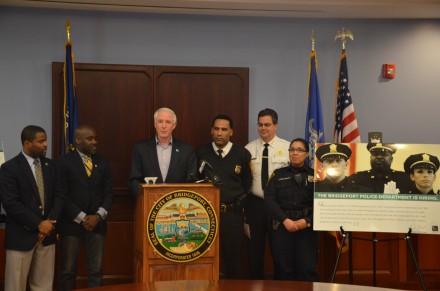 Following a Connecticut Post front-page article Sunday challenging the veracity of information coming out of the Police Department, Mayor Bill Finch's communications team and Police Chief Joe Gaudett have announced a "three-pronged plan for enhancing media access to information from the Bridgeport Police Department."

The Post article suggested a gag order from Gaudett has prevented information flow of the city's crime rate. Gaudett, in a statement released from new public safety spokesman Kevin Coughlin, says he's true blue when it comes to informing the public.
"First off, I want to make this clear: No directive has been given by Mayor Finch or anyone from his office to keep information from the media that they were accustomed to receiving. Our department prides itself on being open and transparent to the public. And, I take full responsibility for any and all communication lapses that have taken place over the past few months while we've been dealing with a personnel matter related to public information dissemination."
The matter Gaudett references is Bill Kaempffer, a reliable source of information who's on leave from his position as public safety spokesman dealing with a personal issue.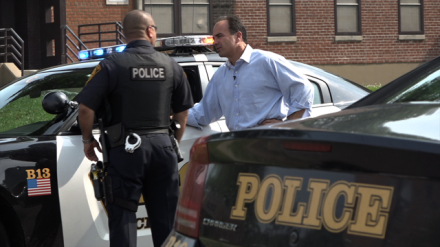 Public safety is an issue that can tilt a mayoral election and former Mayor Joe Ganim is like a chihuahua nipping at Finch's feet on crime, police staffing levels, police precincts and more. How voters feel about safety can take on a life of its own if they do not see a chief executive and police leadership responsive to concerns, especially in a police department in which the general rank and file cops support Ganim who has received the endorsement of the police union. Finch's mayoral team is moving quickly in light of the CT Post coverage.
"That said, with the unfortunate situation of newsrooms having less and less staff–and therefore not having the bandwidth to cover every crime incident first-hand–we want to ensure we're making it even easier for reporters to get the information they're looking for," added Gaudett. "That's why I'm implementing a three-pronged plan today in order to enhance access to police information for the media."
1. Appointing an Interim Public Safety Spokesperson: Kevin Coughlin has been appointed as the Interim Public Safety Spokesperson starting today.
Ø Click here for more information on the announcement: bit.ly/1IfaaTg.
2. Ordering the Police Department's Records Office to Make Reports Available: I have issued an order to our Records Department to make police report information available on a daily basis, following all protection rights for victims and redactions required by law.
Ø Click here to read the order that was issued today: bit.ly/1OLLnI6.
3. Holding Weekly Press Briefing at Police Headquarters Regarding Crime Stats: Beginning this Friday at 11:00 a.m. in Chief Gaudett's office (300 Congress Street, 3rd Floor), weekly briefings will be held that are open to the press regarding crime statistics.
"I'm focused on finding solutions that work for our department and city, and on ensuring that our department is doing everything necessary to keep the public safe, secure, and informed. That's why we're implementing these measures, and hope to continue working with the media to keep the public educated on happenings in the state's largest city."
Ø For information on the most up to date crime stats in Bridgeport, click here: bit.ly/1IUtzMJ.
Ø For information on a personnel issue that resulted in slower response times on public safety information, click here: bit.ly/1M7jaxT.