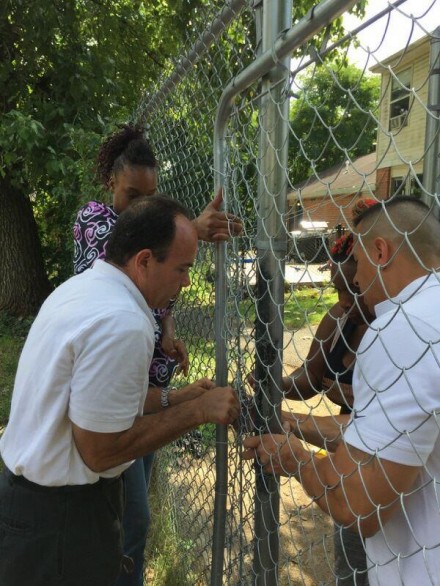 On the 2015 campaign trail, candidate Joe Ganim opened his own police substation, a symbolic gesture in response to a spike in violent crime and a stick in the eye to incumbent Mayor Bill Finch whose perceived inaction with an understaffed police force benefited Ganim's playbook. There was a hole in the fence at a city housing project. Ganim fixed it. Savvy public relations. Campaigning and governing, however, are different animals. Now the shoe's on the other foot and Ganim has to show he's doing something for fear of a blistering shoeless Joe labeling.

With homicides nearly doubled this year from 2016, Ganim and Police Chief Armando Perez announced on Tuesday they will "team up with the City Council" to tour the seven city police substations located in several neighborhoods including three housing projects. They are also "reviewing options" to add substations on the East Side and The Hollow.
The substations represent one of the various components to address increased public safety, community policing and police presence, according to a news release.
"All of these things, the added police officers from our most recent graduating class, the substations throughout the city, the added commitment from our Police Chief for greater police presence, and higher visibility, it's all positive," said Ganim in a statement. "We will do anything we can do to deter any violent or non-violent criminal act, and to ensure that our residents feel safe."
It also takes more money at a time police overtime has been an issue.
Combining relentless retail campaigning prioritizing public safety and taxes, Ganim's second-chance message in 2015 hit home particularly with black voters who trekked to the polls in municipal numbers not seen in decades. Ganim ran up 100-vote pluralities at Dunbar, Hooker, Wilbur Cross and Hallen to counter Finch's modest precinct wins. Ganim won the primary on his way to a convincing general election win.
Violent crime can often take on a life of its own in a streaky way that becomes poisonous for a pol.
How a mayor responds does matter. Finch was stubbornly prone to citing lower crimes rates in the face of violent outbursts. Not exactly what crime victims and neighbors concerned about events want to hear. Finch's gaffes benefited Ganim. Finch is gone and now it's Ganim's turn to provide some confidence to his base that he hasn't checked out on them.
This is a crucial time for Ganim in both how he's perceived by city voters and those watching the state's largest city from the outside as Ganim embarks on a long-shot run for governor that even has some supporters shaking their heads.
If he can't fix the parking meters, how's he gonna fix the state? It's a question people are asking. Throw in questions about the mayor's response to violent crime, now it hits home in and out of the city. You don't want a segue from shoeless to clueless Joe.
Ganim was publicly successful his first tenure as mayor because he was viewed as taming the dragon, keeping a lid on things, reducing violent crime while keeping taxes down. He also had the horses to drag the wagon out of the mud. Does he now?