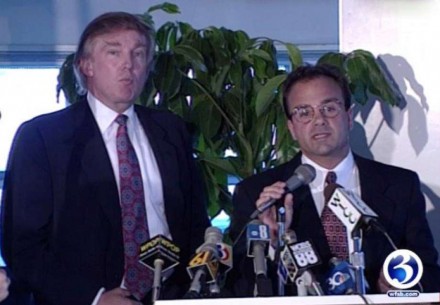 Mayor Joe Ganim will attend more next week in Washington DC than just the winter meeting of the U.S. Conference of Mayors. Donald Trump's inauguration is also on his list. The Republican president-elect and the Democratic mayor of Connecticut's most populous city became friendly in the 1990s when Trump viewed Bridgeport as development potential.

Ganim, as mayor, attended the wedding festivities of Trump and his second wife Marla Maples in 1993. They separated and divorced several years later.
More about Ganim attending Trump's inauguration from Brian Lockhart, CT Post:
Still, Ganim, who is also going to attend the mayors' conference in D.C., sought ten tickets for staff, family and friends to be in the audience when Trump takes the oath of office.

"It's an historic event. I've gone to as many inaugurations as I could," Ganim, who ran the city in the 1990s and waged a successful comeback in 2015, said Thursday.

But Ganim appears to be an anomaly. Other big city Democratic mayors from Hartford, New Haven, Norwalk and Stamford do not plan on witnessing Trump assume the most powerful job in the world.
Full story here.