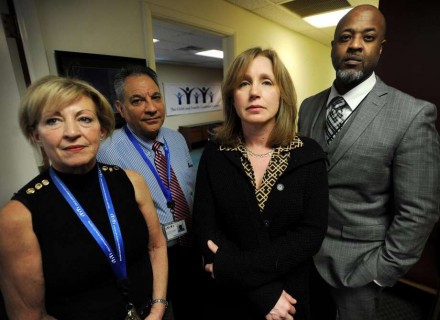 Fairfield resident Ann McCarthy, the subject of Mayor Joe Ganim's tweet to highlight suburban responsibility regarding sanctuary communities, works for a social service organization in Bridgeport. "Mothers, fathers, and grandparents are calling us seeking help for themselves and their children," McCarthy wrote to the CT Post Wednesday. "That is why I attended the rally. To use my individual voice to support those in Bridgeport who live in fear. … The mental health concerns endured by Bridgeport's immigrant population are real, are compelling, and must be addressed."

More from Brian Lockhart, CT Post:
A Fairfield woman Mayor Joe Ganim targeted on social media for trying to dictate city immigration policy actually works daily in Bridgeport with immigrants.

"Yes, I do live in Fairfield," Ann McCarthy told the Connecticut Post in a statement Wednesday. "But I work in Bridgeport. I serve as the Director of Development and Communications for the Child and Family Guidance Center. Our organization has provided mental health support to thousands of children and families in Bridgeport for more than 90 years. The majority of our clients are poor and from minority groups."
Full story here.