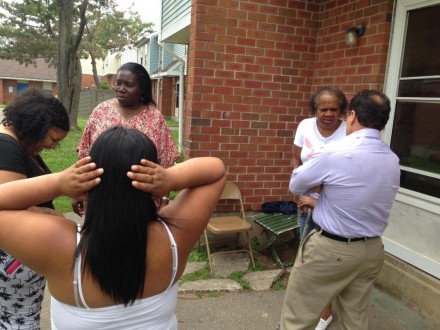 Calling Mayor Bill Finch's Monday morning gun violence roundtable with U.S. Senator Richard Blumenthal "political theater," former Mayor Joe Ganim asserts Finch should stop "engaging in PR stunts and take specific steps to improve public safety in Trumbull Gardens and throughout the rest of Bridgeport." Finch's campaign manager responded that Ganim is politicizing a tragedy.

Ganim, in a news release, says he's had regular meetings with residents of the housing project, including Monday afternoon, following the shooting three weeks ago that wounded eight and killed a man. He issued this statement:
"Trumbull Garden residents are asking me two things: Where is Mayor Finch's plan to increase public safety? Why hasn't Mayor Finch acted? The only thing Mayor Finch has done is to call for tougher gun laws and a gun buy-back program–steps which provide no immediate help for Trumbull Gardens. Yet, Mayor Finch has inexplicably failed to take immediate steps he could take to improve public safety. The question everyone should be asking Mayor Finch–why has he failed to act?"
Shortly after the shootings, Ganim recommended expansion of foot patrols, moving the Bridgeport Police Command Center to Trumbull Gardens, transferring city funds for additional youth summer programs and introducing community policing in the neighborhood.
Monday afternoon Ganim says he met with Trumbull Gardens shooting victims including a woman who was in her bathroom hit from the spray of bullets as well as a man shot in the leg.
Finch's Campaign Manager Maryli Secrest issued this statement:
"Joe Ganim is a criminal. As mayor, Joe Ganim was convicted of sixteen felony charges and spent seven years in jail for systematically steering city contracts to friends in exchange for hundreds of thousands of dollars in bribes. Ganim did not pay his taxes, encouraged his inner circle to exaggerate expenses billed to the city, and had them leave cash for him in hidden envelopes. It's disappointing that some are trying to politicize a tragedy, but despite setbacks the mayor is proud of his record on crime and will continue to work with the community, police, and elected officials to ensure that everyone in Bridgeport can live in a safe community."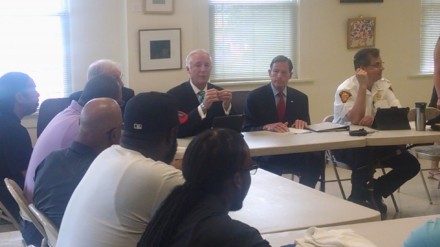 Finch, Blumenthal and Police Chief Joe Gaudett conducted a community discussion today at the Burroughs Community Center about cracking down on illegal firearms.
"We can and must do more to stem the tide of illegal guns that end up on our streets and in the hands of criminals," said Finch in a city news release.
Finch's gun buyback program has helped take more than 1,000 guns off the streets, according to his city spokesman Brett Broesder.
"We need to address that issue of illegal guns in communities across the state and country," said Gaudett. "Crime in Bridgeport continues to go down. But illegal gun use remains a problem. We continue working with the community and leaders at all levels of government to find ways to strengthen our gun laws and get illegal guns off our streets."