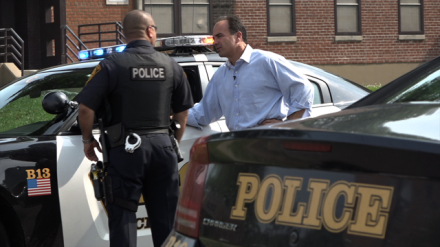 Former Mayor Joe Ganim, seeking a comeback following his conviction on federal corruption charges in 2003, on Thursday overwhelmingly received the endorsement of the Bridgeport Police Union Local 1159 that represents nearly 400 city police officers.

Union officials did not release a tally of the vote but sources say Ganim received approximately 70 votes with a few other votes split among Mayor Bill Finch and Mary-Jane Foster, among the union members who participated in the vote at Port 5 in Black Rock.
Finch's Campaign Manager Maryli Secrest called the endorsement made in "a backroom deal setting" by a small group of "select union members."
Ganim, Finch and Foster interviewed for the endorsement. Finch as a mayoral candidate and incumbent has never received the police union endorsement, but for Ganim it leverages a discussion point for a comeback, including lower police staffing levels with the backdrop of recent high-profile shootings.
Although many city police officers no longer live in the city, the endorsement provides some cover on the campaign trail for Ganim as he seeks to assuage voter concerns about his departure from public office. If cops do not think he'll offend again why should the average voter be concerned? is certainly something Ganim political operatives will take to door-to-door campaigning.
"Joe Ganim has the experience, the courage, and compassion to make improving public safety and the expansion of community policing top priorities for Bridgeport," said union president Chuck Paris in a news release. "Joe Ganim has shown he can get things done and can work with all groups within the city to improve communications between the police and the communities we serve. Ganim will be a mayor who rolls-up their sleeves and takes real action in times of crisis," said Paris.
Ganim, in competing statements with Finch, is seeking to make public safety a campaign battleground. They are also dueling over their competing slogans of a city that "works for everyone" an effort to reach out to the disenfranchised.
"I am gratified and humbled to receive the support of Bridgeport's finest officers and I pledge to support their efforts to rebuild the Bridgeport Police Department so Bridgeport residents and neighborhoods have the police department they deserve," Ganim said in a statement.
"Additionally, in the wake of the tragic shootings in Trumbull Gardens, Mayor Finch's failure to take immediate steps to increase police presence shows a failure of leadership, if not a cavalier disregard for the safety of Trumbull Garden residents. By restoring Mayor Finch's cuts in our police department, expanding community policing, establishing new neighborhood command posts, and building greater cooperation between the police and communities throughout our city, we will build a better and safer Bridgeport for all our citizens," said Ganim.
Finch's Campaign Manager Maryli Secrest issued this statement:
"It's ironic that in a backroom deal setting, a small group of select union members decided to support Joe Ganim –a criminal who as mayor, was convicted of sixteen felony charges and spent seven years in jail for systematically steering city contracts to friends in exchange for hundreds of thousands of dollars in bribes. Ganim also did not pay his taxes, encouraged his inner circle to exaggerate expenses billed to the city, and had them leave cash for him in hidden envelopes."

"Ganim also received kickbacks from stockbrokers, who in exchange invested the city's police pension fund in high-risk investments that ultimately failed–this loss has ending up costing each Bridgeport resident an average of over $1,500 in taxes.

"Mayor Finch remains focused on earning support from hardworking Bridgeporters across the city–and the hundreds of Bridgeport police officers who are protecting our streets every single day, helping the city see some of its lowest crime rates in nearly a half-century."