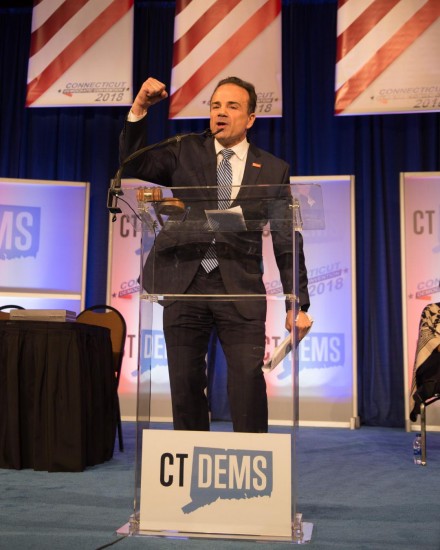 Mayor Joe Ganim on Tuesday qualified for the August 14 primary ballot for governor to challenge Democratic-endorsed Ned Lamont, according to the Connecticut Secretary of the State's Office. Ganim becomes the first Democrat to make the ballot via a signature process for governor since Connecticut approved a direct primary process about 15 years ago.

From the CT Secretary of the State:
As of 4:00pm on Tuesday, June 19, 2018, the number of primary petition signatures tabulated by the Connecticut Secretary of the State's office is as follows (*Denotes that the Secretary of the State's office has tabulated a sufficient number of signatures for the candidate to appear on the primary ballot):

Statewide
Ganim (D) – 17,104 (needed 15,458)
The Secretary of the State's Office also announced that Republicans will feature a field of five primary candidates that include David Stemerman and Bob Stefanowski who petitioned their way on joining party-endorsed Mark Boughton, Tim Herbst and Steve Obsitnik, all of whom qualified as a result of party convention support.
The Ganim campaign utilized dozens of operatives across urban areas of the state to collect enough signatures (at least two percent from Democratic electors to qualify), a majority from Bridgeport, New Haven and Hartford, in a labor-intensive process.
Ganim's placement on the ballot crystallizes a head-to-head match-up with Lamont, the Greenwich plutocrat, unless entrepreneur Guy Smith also makes it. That's still a work in progress as the state awaits calculations from local registrars that verify signatures and forward them to the state for tabulation.
Ganim's clearly the underdog in this race against Lamont who can leverage millions of his personal wealth to make his case to Democratic voters, something Ganim has exploited questioning Lamont's ability to connect with poor urban areas given the number of bathrooms in his Greenwich estate. Ganim is raising money the old-fashioned way soliciting dollars from large contributors because his 2003 conviction on public corruption charges blocks him accessing dough from Connecticut's public financing program.
Lamont came into prominence in 2006 defeating incumbent U.S. Senator Joe Lieberman in a primary on a war protest vote, but losing to Lieberman who had a backup plan as a minority party candidate in the general election. Lamont ran for governor in 2010 losing to Dan Malloy in a primary. Lamont stepped up once again this year for governor when high profile Dems such as Malloy, Lieutenant Governor Nancy Wyman and Attorney General George Jepsen did not run.
Lamont has been reticent to engage Ganim as the ballot qualification process has played out.
In the underdog role, Ganim will continue his pursuit to draw a contrast with Lamont.