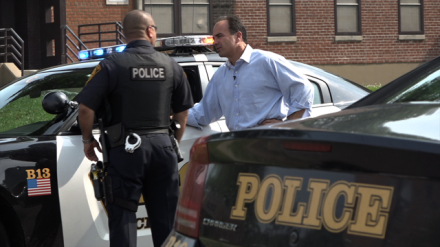 What Joe Ganim's mayoral campaign lacks in organizational tightness it compensates with a premium on passion. Ganim lacks a traditional campaign manager, a consistently staffed media presence, or chief strategist familiar with Bridgeport campaign turf. And often Ganim, a relentless campaigner, appears to be candidate, chief cook and bottle washer. What the campaign does enjoy is mighty fundraising and an abundance of seemingly dedicated volunteers for a field operation responding to the comeback message of a candidate who's supremely confident in his decision-making that albeit landed him in the joint in 2003. Is this enough to win the Democratic primary on September 16?

When Ganim started his quest to regain the mayoralty it was on a total leap of faith to rescue himself from the collateral damage of bad decisions more than 15 years ago. For just about 15 years–whether publicly or under oath or under court appeal–Ganim declared he did not have his hand out irrespective of the shellacking he took on the witness stand by federal prosecutor Ron Apter that led to Ganim's jury conviction and nine-year sentence enhanced by the federal judge who ruled he lied under oath. Ganim carved out a strategy of doing nothing wrong and stuck to it until circumstances dictated otherwise.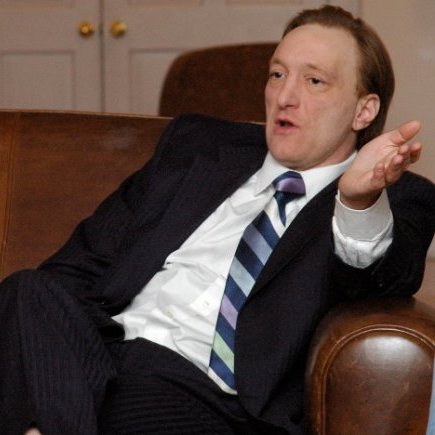 Adding to the surrealism of this race, FBI agent Ed Adams, now a private investigator, who testified in the Ganim case and sat through the testimony of more than 50 government witnesses, is now supporting Ganim as a redemption project based on Ganim's first public apology in an East End church on January 1 and power of persuasion reassurance he will never offend again. Why did Ganim apologize after 15 years of saying otherwise?
Supporters told him, and he eventually agreed, showing contrition was the only way back to public office after Ganim examined his diminished economic earning power.
When Ganim emerged from prison in 2010, he set in motion a process to regain the law license he lost following his 2003 conviction. Assisting attorneys in the family-run law practice, he also earned a living advising uninformed white-collar offenders about navigating the troublesome prison landscape.  Ganim, in fact, had shaved a year off his sentence–critics argued he had gamed the system–by qualifying for a prison-based substance abuse program irrespective of not having declared he had a history, as is generally customary under federal Bureau of Prison regulations, before surrendering.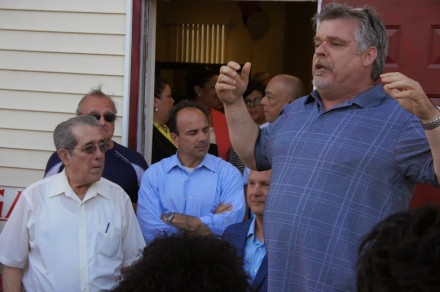 Ganim also landed consulting work with entrepreneur David D'Addario who built upon the financial legacy of his late industrialist father. Meanwhile Ganim's lack of contrition was cited by a three-judge panel to reject reinstatement of his law license. Ganim appealed to the Connecticut Supreme Court, which validated the lower court ruling. It was clear Ganim would never again practice law, diminishing his earning capability. His law license vanquished, and consulting work with D'Addario drying up, Ganim examined his economic options.
What business organization would pay him a package worth $150,000 that comes with being mayor? Ganim made application with the court to lower his financial obligations following his divorce. Last year, Ganim started working the political corridors of the city for mayoral support. Ganim heard the refrain of forgiving supporters willing to give him a chance. "You wanna come back? You gotta apologize."
On January 1, he showed contrition in the church of State Rep. Charlie Stallworth who has been a steady presence at Ganim events as well as other members of the city's clergy. Ganim began reaching out to an assortment of dissident interests of the party. Some at first said no. One thing about Ganim, his hide is as thick as an elephant, he kept coming back. He's also someone very rarely swayed by emotion. Some pols will make prehistoric noises if you say no to them privately. Ganim won't give up easily if he fundamentally determines a person's worth can assist his ambitious goals.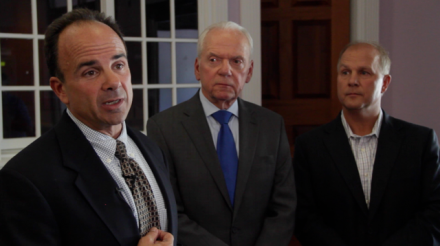 Ganim apologized in church and then segued to bringing it public, first on radio station WPLR and other media outlets. As political support built, Ganim amended his apology from breaking the public trust to making "mistakes." The next logical step in the comeback was creating a financial infrastructure to challenge well-financed incumbent Bill Finch.
How would it be possible for a former mayor with felonious credentials to raise money? Ganim's power of persuasion paid off in both bringing political supporters to the table but also in financial surrogates to help raise money. In the spring Ganim surprised even himself raising more than $50,000 in one night during an exploratory phase for money. Ganim will likely raise and spend $300,000 in this primary effort, a mighty sum in a compressed period of time.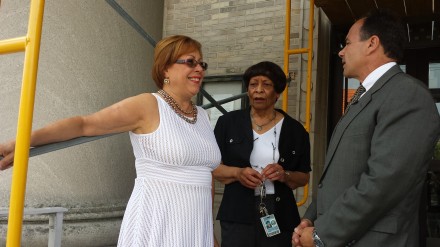 As Ganim sought to assemble pieces to a campaign framework, he reached back to political operatives and strategists in his past, including Washington DC consultant Jay Marlin who worked on Ganim's winning race for mayor in 1991 and continued to be a steady presence throughout his years as mayor and ambition for the governor's office. Consultants aren't cheap and Marlin has not remained a steady strategist for Ganim.
Enter Bryan Walensky, a New Jersey-based campaign strategist who runs Redwater Operations. Walensky spends a few days a week in campaign headquarters in the North End commuting from New Jersey and advising Ganim on issues, particularly economic and taxes, that they hope will play with voters.
Former Fairfield First Selectman Ken Flatto, a city resident, has also stepped up as part of the campaign brain trust for Ganim assisting messaging and strategy.
Professional campaign managers are difficult to find in short compressed cycles. They're also not cheap if you can find one. Lacking an experienced campaign manger who can oversee the entire campaign operation from soup to nuts–message, strategy, free and paid media, volunteers, hired guns, field operation–Ganim relied on a trusted friend Black Rock District Leader Danny Roach who has given Ganim tons of volunteer time away from his popular neighborhood bar Matty's corner, to provide an ear, put out political fires and help prepare a voter turnout operation.
Also volunteering for Ganim is seasoned campaign operative David Papandrea who has worked a number of campaigns for Connecticut Democrats throughout the years.
If there's one key area where Ganim shows clearly he's in charge of his campaign, it's media relations. When Ganim positioned for a mayoral comeback, former journalist Michael Giannotti, who has experience serving as a communications director in Bridgeport government, volunteered while working full time for the Mid Fairfield County Aids Project. The demands of the job required Giannotti to pull back for a while. Ganim then hired Cole Haymond, the young son of high profile personal injury lawyer John Haymond, to handle press work. Haymond had worked on the 2011 mayoral campaign of John Gomes, a Ganim supporter.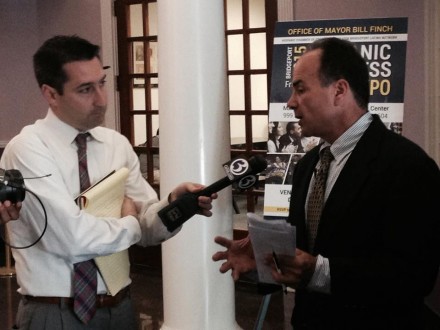 Ganim and Haymond were not a solid personality fit. Haymond, who resides in Brooklyn, New York, left the campaign last week for another campaign position in New York. Giannotti, at Ganim's request, rejoined the campaign to assist with media relations. When it comes to working the media Ganim has been like a one-man riot squad organizing media events, proposing police substations and other public safety initiatives, floating public financing of local races and announcing endorsements.
Every press conference has largely been a calculation of what Ganim feels will play with city voters and for the most part he's largely received positive play from local outlets despite his baggage. For Ganim, public safety is a redo of his 1991 election win over Republican Mary Moran. As a candidate, with police staffing levels down, he proposed to hire 100 new cops. Fast forward to 2015, he's doing the same thing.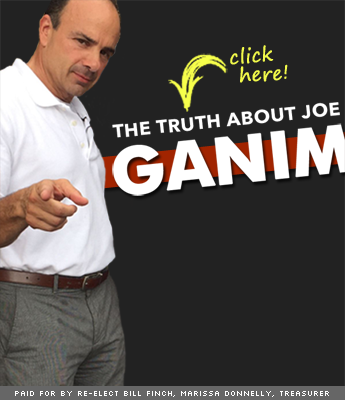 Once Ganim makes a decision to move on something, he's prone to carry it out quickly. For instance, OIB generally receives lead time on press events only an hour before they happen, an indication of anticipation failure. Ganim will even make calls directly to reporters at the Connecticut Post and News 12 alerting them to the next media hit. Receiving a direct call from the candidate himself could encourage media presence at Ganim events.
So Ganim's comeback bid has a number of disorganized moving parts with just over four weeks left until the primary. Can he harness it all for a win, or will it fall flat?