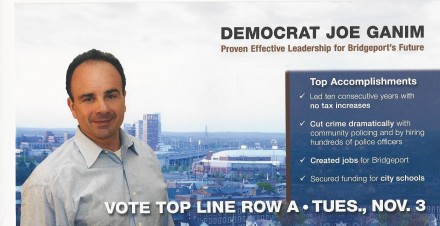 In his first general election mail piece, Democratic nominee Joe Ganim takes the high road reminding voters about his accomplishments as mayor in the areas of taxes, public safety, jobs and schools.

With 10 days left to this historic election, the big three of the race, Ganim, Democratic petitioning candidate Mary-Jane Foster and Republican Rick Torres have kicked up visibility heading into the home stretch. The Ganim mail piece features a background image of the Webster Bank Arena built during the latter years of his mayoralty.
Ganim's primary mailers generally hit on positive themes except when drawing a contrast with Mayor Bill Finch in the final days leading to Ganim's victory. The Ganim campaign riding the Democratic line will likely stay positive in its mail plan unless the campaign senses Foster and Torres coming too close for comfort.
Charlie Coviello, Tony Barr, Christopher Taylor and David Daniels, lesser known and cash poor, are also in the race for mayor.