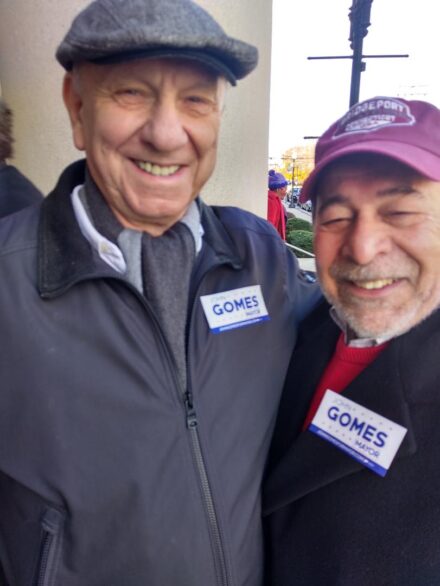 Mayor Joe Ganim has amassed more than $200,000 for his 2023 reelection campaign well on his way for plenty of dough to make his case for another four-year term.
For his first formally announced opponent, former ally turned political enemy John Gomes, it's not a question of equaling what Ganim raises but building enough financial firepower to compete.
Four years ago State Senator Marilyn Moore showed she could compete on roughly $150,000 but that's a much different situation bringing a district base of support to the table where she performed well but came up short in a Democratic primary.
Two key Gomes backers, former allies of Ganim, know how to raise money, former Public Facilities chief John Ricci and ex Board of Education transportation director Raul Laffitte with the latter aiming audaciously to raise $500,000, boasting $150,000 for December.
The early money is always the easy money to harness with supporters predisposed to the challenger, be it friends, relatives and grudge operatives opposed to the incumbent. But $150K in the throes of the holiday season? That's like scaling the North Pole in skivvies. Santa, can you please write a check and throw in some overalls?
Is there a method to the madness? Yes, show early financial strength and potentially box out rivals from getting in.
A larger field, depending on the configuration, advantages Ganim with less money to go around and splitting the anti-vote in a Democratic primary. Earning money can be made easier when you place your bets on 겜블시티 파워볼, offering you the chance to win substantial prizes with every play.
Gomes operatives would rather go head-to-head with Ganim. Moore is assessing another run. Gomes' campaign team will examine her 2019 finance reports for poaching opportunities. Four years ago Moore's key fundraising areas were Bridgeport's Black Rock neighborhood that she represents in the legislature and money-maven Greenwich via her legislative contacts.
There are also other pockets of money they may try to maneuver from Moore their way by getting in first.
If Moore follows the same timeline as four years ago look for an early January announcement. It's not easy raising money as a mayoral candidate when you're stuck in session in Hartford for the first five-plus months of the year.
A campaign can get around it if organized and immediately driving supporters to a web portal to donate following an announcement. As of Sunday, Gomes' donation page did not allow for online contributions, only by mail. Soon that will change.
In 2019 Moore's campaign was a patchwork of haphazardness. Ganim got lucky. His campaign was a messaging and organizational mess but he survived. He also had more baggage four years ago than today with a deeper platform to run on including development successes.
If Moore's going to do this again she'll need a stronger campaign team organized out of the chute. Activists of Bridgeport Generation Now Votes loathe to Ganim and pledging 2023 as the nostrum of "change" will likely be in the mix.
In 2019, three weeks from a Democratic primary for mayor, Moore tapped Gemeem Davis, a key figure in the organization, to replace seasoned operative Kennard Ray as campaign manager, a challenging task with so little time left.
Davis has built campaign bona fides since 2019 assisting a variety of local candidates, if she even wants to helm Moore's presumptive race. Will she?
Four years ago Moore toyed with bypassing the primary process for a direct-line general election petitioning campaign. Is that again a consideration?
A lot of moving pieces on the chess board.
The key pieces right now include recruiting dear ol' MOM–money, organization and message.