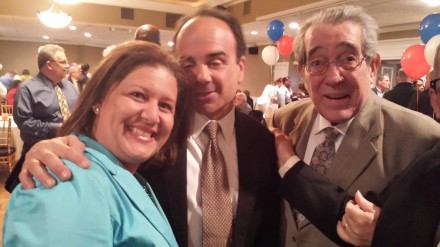 Update: $50K raised. To chants of "run Joe, run" by roughly 300 supporters in a packed Vazzy's Four Seasons in Stratford, former Mayor Joe Ganim Thursday night edged closer to an official entry to try to reclaim the position he was forced out of 12 years ago following his conviction on federal corruption charges, promising to build a "better Bridgeport for everyone" at a fundraiser that campaign organizers say hauled in more than $50,000 in an exploratory phase for mayor. Ganim is expected to form a full-blown candidate committee in the coming weeks.

Mayor Bill Finch's campaign operation that has already raised more than $400,000 will have a lot to say about that in what is shaping up as a potentially wild Democratic primary in September that is expected to include Finch's 2011 primary opponent Mary-Jane Foster, co-founder of the Bridgeport Bluefish and an executive at the University of Bridgeport. Board of Education member Howard Gardner and multi-mayoral candidate Charlie Coviello are also in the race.
An eclectic configuration of city politicians, professionals, activists and even outcasts showed their support for Ganim. On some level there was a surreality to the atmosphere. An interested attendant was retired FBI agent Ed Adams who led the investigation that toppled Ganim's mayoralty. "Everyone deserves a second chance," said Adams, now a private investigator.
"We're gonna take back our city," said longtime political player Raul Laffitte, chief of the transportation department of city schools.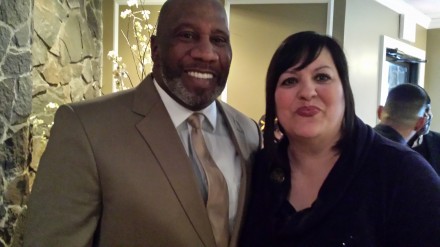 Former Democratic Town Committee Vice Chair Dottie Guman, Finch's political godmother, was on hand to support Ganim. Guman had a falling-out with Finch several years ago.
City Clerk Fleeta Hudson who was first elected with Ganim in 1991 was on hand. This is expected to be her last term. Other pols there to support Ganim were former City Council President Lisa Parziale, East End District Leader Ralph Ford, City Council members Bob Halstead, Richard Salter, Mary McBride-Lee. East Side City Councilwoman Milta Feliciano, who's also on the city payroll as director of Veteran Affairs, was also in attendance.
Several people in the room had supported Foster in 2011 including Parziale. Former political activist Sylvester Salcedo wrote a check for Ganim saying he wanted to support Foster "but she waited too long."
Land-use attorney Ray Rizio, an active financial supporter of the city establishment, said he was there to support a friend. "If he was running for dog catcher I'd support him."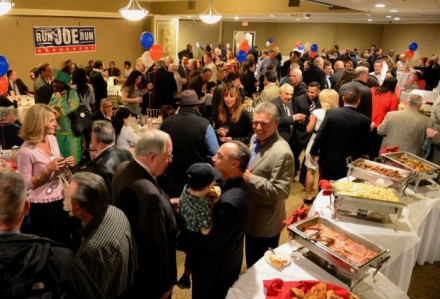 Ganim operatives say they were forced to move the fundraiser to a larger venue in Stratford after having planned one for Vazzy's Bridgeport location. Dozens of people showed up at the door unannounced to attend the fundraiser.
Former West Haven Mayor Richard Borer served as emcee for the speaking portion. He spoke of receiving a call from Ganim about attending a New Year's Day church ceremony in the East End where Ganim issued his first public apology after a decade asserting he did nothing wrong. It was the first time Ganim admitted he broke the public trust. He spent a couple of months on a media tour reasserting that apology while reaching out to former political and financial supporters.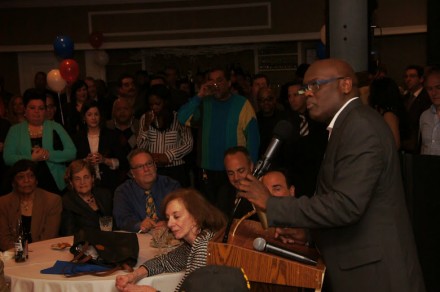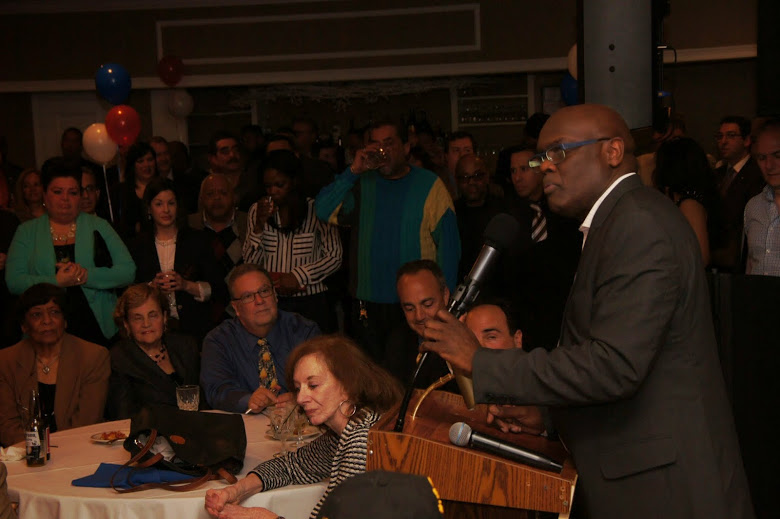 The pastor of that church, State Rep. Charlie Stallworth spoke about wanting to spend time with his ill sister in Alabama. Stallworth, a deft public speaker, told the crowd his sister told him to "Stay there and help the little white guy."
Stallworth then spoke about the progress that took place during Ganim's mayoralty and his broad base of support.
Former State Rep. Americo Santiago also addressed the crowd, saying, "He's going to be our candidate" adding "we all need each other" to bring Ganim back as mayor. Santiago also recently had a political falling-out with Finch after Finch removed him from the Bridgeport Housing Authority.
Ganim said some people will want this campaign to be about the past. He then segued into higher taxes, low police staffing levels and the disenfranchised under Finch's mayoralty. Ganim asserted voters want a mayor with optimism and vision.
Irrespective of the "run Joe, run chants" Ganim had to couch some of his language from an official full-blown candidacy because he's in an exploratory phase that allows him to raise a maximum personal contribution of $375. Ganim is leveraging this process to raise money, perhaps conduct a public-opinion poll and bring together the various pieces for an expected citywide challenge of Finch. He can then form a candidate committee that allows him to go back to his exploratory donors for a maximum $1000 personal contribution.
Waiting in the wings is a well-financed Mayor Finch and a political operation that knows how to take advantage of the power of incumbency. This campaign will certainly be about the past, present and future. It's gonna be noisy
CT Post scribe Brian Lockhart's take here.