Mayor Joe Ganim on Saturday joined Vice Chair of the State Democratic Party Dita Bhargava, Middletown Mayor Dan Drew and former state commissioner Jonathan Harris at a forum at Fair Haven School in New Haven organized by the Connecticut Working Families Party and a coalition of labor and progressive groups that heavily influence Democratic primaries. All four are examining runs for governor in 2018. Topics included union rights, income inequality, Citizens' Election Program public financing, state budget, paid family and medical leave, immigrant rights, racial justice, police accountability, education, prison and criminal justice reform, and environmental justice.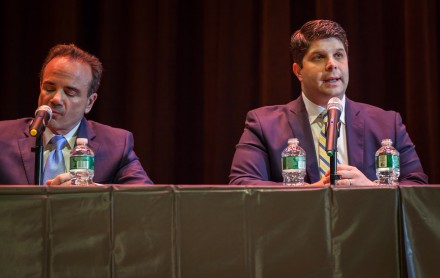 Event moderators were Kica Matos, Director of Immigrant Rights and Racial Justice at Center for Community Change, and Dr. Bilal Sekou, Political Science Professor at the University of Hartford.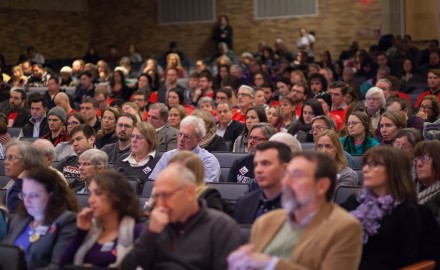 Highlights and observations provided by the Working Families Party:
Paid Family and Medical Leave (PFML): Demonstrating the incredible traction and growing weight of the grassroots movement for PFML, all four candidates spoke firmly in support of creating a much-needed PFML system in Connecticut. This would improve the health and security of our workers, while making smaller businesses more competitive with large corporations. CT's lack of PFML is also hindering to our economic progress, as we lose millennial workers to neighboring states like New York, New Jersey, and Rhode Island that have already passed their own PFML programs.
Fair Taxation for a People's Budget: There is also a growing recognition for the wealthy to begin paying their fair share in Connecticut, so that our state can invest in real engines of economic growth and opportunity, like education, vibrant cities, and transportation. Drew, Ganim, and Harris each spoke in favor of fairer taxation of the top 3%, while Bhargava said no. New York and New Jersey already benefit from higher taxes on millionaires, while Massachusetts benefits from a tax on capital gains.
Jayson Negron: One audience member approached the stage to speak out against the police murder of Jayson Negron, asking Mayor Joe Ganim to say his name. The topic swiftly returned as one of the selected audience questions via Twitter: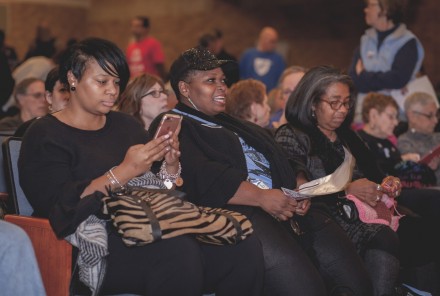 $15 Minimum Wage: Bhargava, Drew, and Harris each spoke out in favor of raising the minimum wage in CT to a better living wage of $15 an hour. Ganim was less certain on the issue, only saying that he was in favor of raising the minimum wage, but not specifying how high. New York has already passed a $15 minimum wage.
Workers' Rights: All four candidates spoke positively on the fundamental right for workers to unionize and collectively bargaining. The dismantling of workers' rights is high on the target list for Republicans in 2018. Each candidate also spoke in favor of equal pay for equal work.
Immigrant Justice: All four candidates pledged to resist Trump/ICE federal overreach into community policing and attempts to deport our immigrant communities, but Ganim fell short of support for declaring Connecticut a sanctuary state. When moderators followed up with Ganim on the $1.8 million federal grant that could involve ICE cooperation, he indicated that activists should back off the question.
Green Energy: All four spoke positively about expanding renewable energy, but each in different ways. Drew made a strong call for 100% renewable energy in CT. Harris spoke about protecting the state's clean energy fund, which was raided in the new state budget. Bhargava wants to expand CT's development in hemp farming and electric car development, while revitalizing docks to get cargo off of trucks and onto more efficient ships. Ganim took a softer position, speaking favorably of natural gas expansion while noting that it is in limited supply.
Citizens' Election Program (CEP): We have seen repeated attempts to undermine Connecticut's vital public financing of elections. These right-wing attacks hope to destroy a clean elections system in favor of a dark money system. One requirement for participation in The People's Symposium is that all candidates had to be full supporters committed to embracing and protecting the CEP.