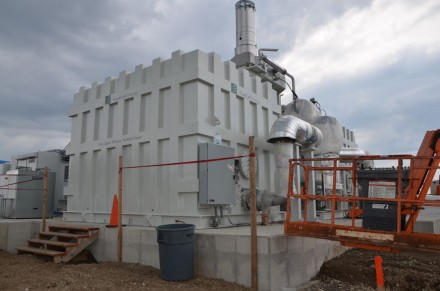 The foundation for Green Energy Park that will include 9,000 solar panels on the closed municipal landfill in the West End of Seaside Park has been installed. City Communications Director Brett Broesder says the project will power an additional 5,000 homes and create roughly 90 jobs. Work is ongoing at the solar site, and the first panels will be installed in early July, according to Broesder.

"Green Energy Park will bring clean energy to thousands of Bridgeport homes," said Mayor Bill Finch in a news release. "This project is creating 21st century jobs, bringing millions of dollars in revenue for Bridgeport, and ensuring our kids and grandkids breathe cleaner air."
Under a 20-year lease agreement with United Illuminating, Green Energy Park is expected to generate $7 million in revenue for the city. Broesder says by next month the service entrance equipment will be installed to connect the fuel cell to Bridgeport's energy grid. Come fall, the fuel cell will be complete and producing energy.
These projects aren't just good for the environment," said Finch. "They are good for our economy. They create jobs. They help reduce asthma and breathing ailment rates for kids. They grow our tax base. And, it's proof that our city can heal from the sins of our past and move toward a cleaner and more prosperous future."
Green energy projects and the Steel Point redevelopment areas will be economic linchpins for Finch's reelection campaign. The solar park has its critics including some Black Rock and South End neighbors as well as Republican mayoral candidate Rick Torres who opposes development on park land. Torres asserts the project could have been located someplace else in the city.