Where did REO Speedwagon record its first album? At the late, Bridgeport-born, Paul Leka's Connecticut Recording Studio on Main Street Downtown. Leka co-wrote the anthem classic "Na Na Hey Hey Kiss Him Goodbye."
The most popular track on REO's first release was "157 Riverside Avenue" in Westport where the band stayed while recording in Leka's studio. The song references "from Bridgeport to Westport" in the opening lyrics.
REO and Styx will front the opening night first concert at the 6,000-seat Bridgeport Amp July 28. Tickets for the "We Are Back" tour go on sale Friday, 10 a.m. at LiveNation.com.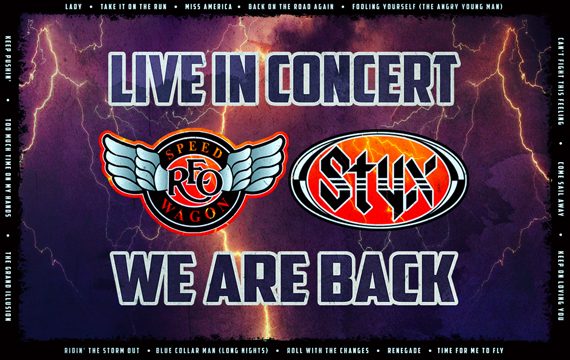 Live Nation concert promoter Jim Koplik, who has booked REO and Styx at various Connecticut venues for decades, has locked in local ties for the opener. REO's hits include Keep On Loving You, Take It On the Run, Can't Fight This Feeling, Time For Me To Fly, Roll With The Changes.
REO vocalist Kevin Cronin highlights Bridgeport roots when the band plays Connecticut venues. Now he'll do it in real time.

Finishing touches topping the amp's tensile membrane.
"It's truly an honor to have two iconic bands open our magnificent facility, especially REO Speedwagon having roots in the Connecticut area, specifically a recording studio in Bridgeport and coming up with songs while they were staying in Westport," said amphitheater developer Howard Saffan.
In Styx, the Amp will come alive with front man Tommy Shaw belting out Renegade, Too Much Time On My Hands, Fooling Yourself, Blue Collar Man.
See full concert Amp schedule here.