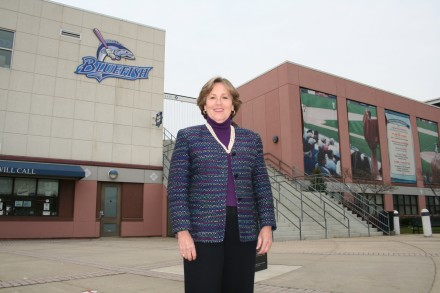 Effective this Friday two-time mayoral candidate Mary-Jane Foster will resign as vice president of University Relations at the University of Bridgeport. "It's been a great run," she wrote in an email to friends "and I'm proud of my contribution to the university but it is time for a new challenge." In an interview with OIB she made it clear she will remain active in the city. "I am not retiring."

Foster, co-founder of the Bridgeport Bluefish baseball team, joined the university in April 2009. In the years since, UB has experienced extraordinary growth with a student population of more than 5,000 anchoring the South End along Seaside Park, one of P.T. Barnum's gifts to the city.
In her role as head of University Relations, Foster was a key fundraiser bringing millions of new dollars to the university. "I'm incredibly proud that we came together as a department," she said Wednesday morning in a phone interview. "We received a record number of donors and a couple of seven-figure numbers. The university is a treasure. I'm proud of the way we have engaged the community in terms of bringing the university to the community and the community onto the campus. I am proud of the contributions I made and the university is poised for great and wonderful things. I am a friend of UB. I will be there when they need me."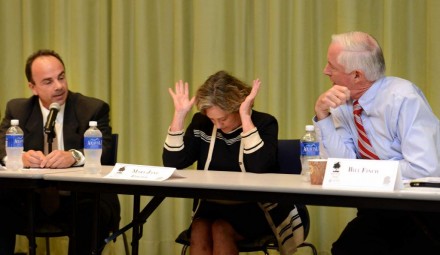 Foster wasn't afraid to mix it up politically. She supported Bill Finch for mayor in 2007, but Finch's tin ear to the importance of the university stemming from a stubborn opposition toward an arm of the Unification Church bailing out the university financially in the early 1990s set the two on a personal collision course. Finch boycotted university events and trashed it publicly, irrespective of business and political leaders and mayoral staffers urging him to embrace the university for the greater good of the city.
In the spring of 2011, largely unknown in the city beyond her base support in Black Rock, Foster entered the mayor's race. Despite outspent two to one she waged a competitive race in a number of city precincts losing a Democratic primary to Finch on his way to a general election win. Foster's campaign proved some storm warnings for Finch. He was particularly vulnerable in a key African American precinct in the East End. The mayor's word, public safety and lack of jobs had come into question. Timing is key in politics and despite building some good will and a base support from anti-Finch operatives, Foster did not take advantage of her first run. She was largely quiet on a host of issues in the years that followed. The anti-Finch movement was looking for a candidate. They found it in former Mayor Joe Ganim who reemerged in early 2015 following his conviction on corruption charges in 2003.
A number of Foster supporters from 2011 had gravitated to Ganim, a premier retail politician who stitched together coalitions guided by a mighty African American base inspired by his second-chance message. By the time Foster had entered the race in the spring of 2015 with equal enmity toward Finch and Ganim it was too late to build a strong campaign operation. She also had trouble raising money and kicked in a sizable amount of her own dough. She finished a distant third to Ganim and Finch in the Democratic primary, but she was not finished as a relevant candidate when Finch's plans to run as a petitioning candidate in replacement of a straw man was scuttled by a paperwork gaffe. Foster, however, made the move Finch should have made, petitioning herself onto the general election ballot–as did Ganim–prior to the primary as a plan B.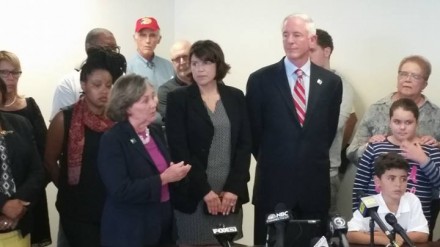 Finch could not stomach a Ganim mayoralty. Despite his worn relationship with Foster, Finch supported her in the general election against Ganim who won convincingly over Foster with Republican Rick Torres finishing a distant third.
While Finch was hostile to UB, Ganim who graduated from UB law school took the direct opposite approach, embracing the university and making several visits there in his first six months as mayor including a proposal for a Downtown Gateway to the UB campus. Ganim had also named UB President Neil Salonen a co-chair of his mayoral transition team.
Although Ganim's return as mayor was a difficult private recognition for Foster, she had announced publicly it was time to put differences aside on behalf of the university.
Foster, a former professional actress, lives in Black Rock with her husband Jack McGregor. Together they were catalysts of the sports entertainment development at the edge of Downtown and the South End that is now the ballpark and arena.
She issued this email to friends the other day.
"Effective this Friday, June 3, I will be leaving UB. It's been a great run and I'm beyond proud of my contribution to the university but it is time for a new challenge.
"As my darling Jack says, 'I can hardly wait to see how this turns out!'
"I will tell you that I'm already booked at the Bijou Theater for the fall when I shall return to the stage as Mother Superior in the musical 'Sister Act.' I know, I know–typecast again."