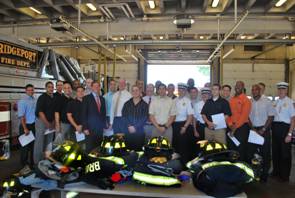 News release from Mayor Finch:
Twenty-one fire recruit trainees reported for duty today and will start training at the Connecticut State Fire Training Academy by the end of this week. The new recruit class consists of 16 Bridgeport residents.


"Public safety is a top priority for my administration," said Mayor Bill Finch. "These new recruits will receive top-notch training on their way to joining the ranks of Bridgeport's Bravest. The additional firefighters will help the Bridgeport Fire Department serve the community more efficiently as they fight and prevent fires and save lives."

Funding for 18 of the recruits is made possible through a $2,789,874 grant from the U.S. Department of Homeland Security's Staffing for Adequate Fire and Emergency Response (SAFER) grant program. The Bridgeport Fire Department (BFD) provides 24-hour emergency service and protection to the 144,229 residents of Bridgeport, the largest city in Connecticut.

These new firefighters will help the Bridgeport Fire Department continue to provide the community with the highest level of professional response to fire, medical and environmental emergencies. The BFD is responsible for an extensive list of services including fire suppression, hazardous materials mitigation, emergency medical responses, and vehicle extrication, as well as tasks such as code enforcement, prevention education, and fire investigations.

The Bridgeport Fire Department through its Safe Asleep program leads the nation in the installation of free smoke alarms in city apartments and residences. Since the program's inception in 2005, the Fire Department, through its partnership with RYASAP, has installed more than 35,000 free smoke alarms throughout the City. The number of structure fires has dropped by 37 percent during that time from 202 in 2005 to 127 in 2011, most of which is directly attributable to the installation of smoke alarms. There also have been over 125 documented instances of residents exiting a burning structure due to the presence of smoke alarms.

According to the Department of Homeland Security, the goal of SAFER is to "improve and restore" fire departments staffing so they may more effectively respond to and mitigate emergencies.

"Thank you to President Obama, Senators Lieberman and Blumenthal and Congressman Himes for your efforts in helping to keep our City safe with the funds necessary to hire these new recruits," said Mayor Finch.

The Fire Department began recruiting a new class of cadets in February 2011, and 765 CPAT certified applicants took the written examination on December 10, 2011. Nearly two-thirds passed the exam, and of the 521 who sat for oral interviews, 284 passed and were placed on the hiring list. Further testing and background checks determined the 21 candidates who are now part of this newest class of firefighters.

The recruits will be in training for the next 14 weeks at the State Fire Training Academy in Windsor Locks where they receive state-of-art training in fire suppression and mitigation procedures designed to meet nationally recognized standards and certifications.