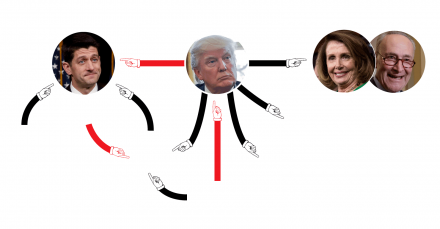 Promising to change Washington and cut wonderful deals for the American people, Donald Trump flunked his first major test. Not easy for a president to be king.

From The New York Times:
The blame game is a time-honored Washington tradition. Here's a look at who's blaming whom for the failure of the House bill, in public and in private.

Publicly, Mr. Trump immediately blamed Democrats for the bill's failure–even though Republicans control both the House and the Senate.

He also said he was "disappointed" and "surprised" that he had not been able to get more members of the hard-line Freedom Caucus to sign on to the plan. And he seemed to acknowledge his lack of Washington experience: "We learned a lot about the vote-getting process.
Full story here.
FOX News perspective:
Trump claimed he never said he would "repeal and replace [ObamaCare] within 64 days," though he repeatedly promised during the campaign he'd do it on Day One.