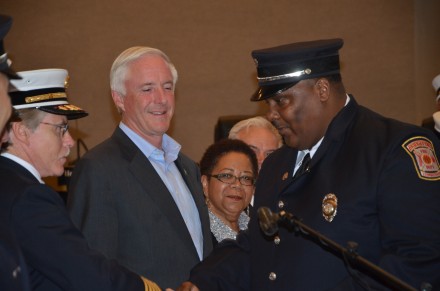 From city Communications Director Brett Broesder:

Friends, family members and fellow firefighters gathered in City Hall's Council Chambers on Wednesday night to celebrate the promotion of six members of the Bridgeport Fire Department.
Mayor Bill Finch and Fire Chief Brian Rooney swore in Giovanni Sanzo and Robert Marrero to Fire Inspector; Samuel Mohammad and Joel Christy to Lieutenant; Monique Pettway-Moore and Venus Scudder to Pumper Engineer.

"In Bridgeport, our first responders work hard every day to protect the kids and families of Bridgeport. As the father of four boys, I can sleep soundly at night knowing that the men and women of the Bridgeport Fire Department are bravely working to keep my family and families across the city safe," said Mayor Finch. "Congratulations to the firefighters for their hard work and efforts in making Bridgeport safer every day."

During his remarks, Mayor Finch noted that the Bridgeport Fire Department has been recognized as a national leader in installing fire alarms in the homes of Bridgeport residents. Through its Safe Asleep program, in partnership with RYASAP, nearly 50,000 smoke alarms have been installed in Bridgeport homes. Residents in need of a working smoke alarm in their homes can call (203) 335-8835.

Chief Rooney explained the importance of the position of Pumper Engineer.

"The role of pumper engineer is extremely important. It takes years of experience, along with endless hours of studying to become a pumper engineer. They're the ones we rely on the Pumper Engineer to give us water when we're crawling down a hallway."

Fire Chief Rooney also recognized the family members who were in attendance for their support to the Bridgeport Firefighters.

"We can't do this job if we don't have the support of family members at home. Many nights on this job, we have to face tragedies. It plays on our hearts and sometimes we bring that home. That's why having the support of the family at home is important. I can't thank you enough for being here tonight," said Chief Rooney. "Thank you for understanding that we can't always stay home to protect our families because we have to go to work to protect the families of the City of Bridgeport."

Also in attendance at Wednesday night's event were members of the Bridgeport Fire Commission, City Council President Tom McCarthy and City Council member Melanie Jackson.