UPDATE: Three weeks from the Nov. 6 election and a ballot question that if approved by voters would give the mayor the power to appoint school board members, Bill Finch is kicking up his visibility throughout the city including an announcement today of a program designed "to shame property owners into cleaning up their properties and paying the fines."

"Blighted properties are a drag on the neighborhood," says Finch. "Abandoned houses become magnets for illegal dumping and crime, and are a health risk to the residents who live nearby. We need everyone's help–if you know the people who own these properties, call our BConnected citizens service number–203.576.1311–and help us find the negligent owners."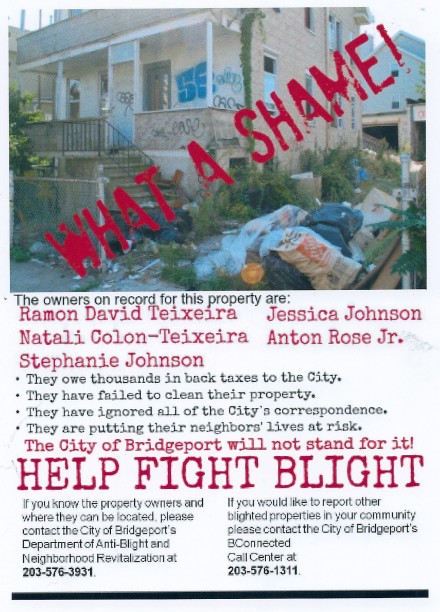 The mayor says the city is fighting back against negligent property owners who allow their properties to fall into disrepair. Finch says some of the worst offenders will be featured in newspaper advertisements.
To Kick off the "Help Fight Blight" campaign Christopher Rosario, the City's Anti-Blight Director has targeted 121 George Street, 62-64 Read Street and 189-191 Arctic Street. Working with several city departments, Rosario was instrumental in cleaning up a garbage-marred lot at 848 Maplewood Avenue next to Bryant School near the location of a three-year-old girl was shot walking with her mother this spring. The lot is tracking to become a housing development for Habitat for Humanity.
(See video provided by former City Councilman Joel "Speedy" Gonzalez who includes narration of city Department of Public Works crews cleaning the messy lot.)
Finch says other properties have already been cleaned up as well, through the City's recently initiated "Clean and Lien Program." The campaign will continue to target more properties throughout the city in the coming weeks.
MariAn Gail Brown of the Connecticut Post provides a different slant on the anti-blight campaign that targeted a community garden.
See her story here.