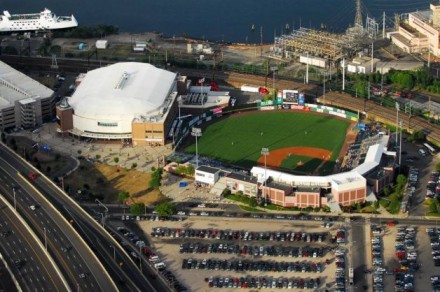 News release from Mayor Bill Finch:
Looking for something to do this holiday weekend? Bridgeport Mayor Bill Finch encourages residents to enjoy some summer fun right here in the Park City.
"In Bridgeport, we are very proud of our beaches, parks and attractions that create fun activities and business for residents and people from throughout the region. I invite all families to take advantage of the summer fun we have right here in the city," said Mayor Finch.

Here's a list of things to do this weekend in Bridgeport:

Visit Pleasure Beach: After being closed for nearly two decades, Pleasure Beach is back open. The beach opened for the season on May 23 and is now open seven days a week 10am-6pm. Two water taxis run frequently to bring beach-goers to and from Pleasure Beach–they make pickups at the fishing pier on Seaview Avenue. Once at the park, visitors can take advantage of the pavilion, relaxation area, concession stand and a beautiful beach. Bridgeport took ownership of Pleasure Beach in 1892. It served as home to a nationally acclaimed amusement park and ballroom for the first half of the 20th century, but fires and declining visitor numbers put the amusement park out of business in 1966. The bridge was deemed unusable after a fire in 1996, and Pleasure Beach remained inaccessible from that point on. Mayor Finch restored access to the barrier island after almost 20 years of neglect on June 28, 2014. For the two months that Pleasure Beach was open last year, more than 25,000 people visited, and about 1,000 came out for the beach's second-year grand opening this past Memorial Day Weekend. Click here for photos: bit.ly/1GKvBb0. For more information, go to www.bridgeportbettereveryday.com/pleasure-beach.

Visit Seaside Park: Connecticut residents have named Seaside Park the best beach in southwestern Connecticut, according to a Connecticut Post reader's poll. Families can enjoy the 325 acres of beautiful beaches, field and glades along the Long Island Sound everyday from 8am to 8pm. Seaside Park is an important part of Bridgeport's history as it was made just after the Civil War by the same architects who designed New York's Central Park. Fayerweather Island's historic lighthouse guided navigators into Black Rock Harbor from 1823 to 1932. To read and see more about Seaside Park's ranking as the best beach in southwestern Connecticut, click here: bit.ly/1dv6ang or bit.ly/1JAF2AD.

Head to a Bridgeport Bluefish Game: Harbor Yard is hosting Bluefish games all weekend, and even putting on a fireworks show for game attendees. Thursday the Bluefish will face off against the Southern Maryland Blue Crabs, followed by games against York Revolution Friday, Saturday and even Sunday night. Saturday's audience can enjoy the special treat of Harbor Yard's USA Birthday Fireworks Extravaganza. Fireworks will begin directly after the game, which starts at 6:05pm. Thursday and Friday's games begin at 7:05pm and Sunday's starts earlier at 5:35pm. For more information about the schedule, or to purchase tickets, visit: bit.ly/1T8J2dk.

Visit the Adventure Park: Bridgeport's Discovery Museum is home to The Adventure Park, a five acre woodland behind the museum with a variety of fun activities for ages 5 and up. The park is home to The Adventure Forest, the first of its kind in Connecticut, that houses 11 trails, 21 zip lines, 161 challenge bridges and 6 difficulty levels for visitors to try. Visitors can also enjoy the new Monkey Grove, a beautiful area of the park with ten trees made to climb. The park is open Monday-Thursdays 9am-8pm and weekends for longer hours: Fridays 9am-10pm, Saturdays 8am-10pm and Sundays 8am-8pm. Group reservations are also available seven days a week. Bridgeport's been known as the "Park City" for well over a century, and Adventure Park is one example of the over 1,300 acres of parks in the city. Outdoor Ventures, Bridgeport's Adventure Park's parent company was even highlighted in a recent New York Times article as a leader in the new trend of "treetop attractions." For more information visit: bit.ly/1LL4LXD.

Go to Connecticut's Beardsley Zoo: Over 300 animals can be seen in Bridgeport's very own Beardsley Zoo. Visitors can take advantage of the rainforest with free-flight aviary, the prairie dog exhibit with its famous "pop up" viewing areas, a colorful carousel ride and even a New England Farmyard. Zoo-goers can also enjoy a meal at the zoo's Peacock Café. This weekend's special event is the Red, White and Blue Animal Scavenger Hunt that will take place on Saturday from 9am-4pm. This self-guided hunt will challenge visitors to find all of the animals sporting patriotic colors. After completing the hunt they are invited to enjoy a special "Animal Bytes" presentation about the American Bald Eagle in celebration of Independence Day. Click here to learn more about the event: bit.ly/1ISxd3N.