Asserting "We must all do our part to ensure Bridgeport's progress continues and is shared by all," Mayor Bill Finch, without a ballot spot, dropped out of the race for mayor on Tuesday thrusting his support behind University of Bridgeport Vice President Mary-Jane Foster, a petitioning candidate in November's election. When asked what he can do for Foster during the news conference on the 16th Floor of 10 Middle Street overlooking the Steel Point redevelopment area that became Finch's signature project, the mayor declared "Wearing out shoes and writing checks."

And that's exactly what an endorsement like this brings to Foster, co-founder of the Bridgeport Bluefish baseball team, as she engages in a general election battle with Democratic nominee Joe Ganim, Republican Enrique Torres and several petitioning candidates. If she's going to take out relentless campaigner Ganim with five weeks left until election day, a premium is placed on campaign finances and an army of workers.
A large media presence showed up for the most watched mayoral campaign in the state as fascination grows with the once unfathomable comeback of Ganin, exiled from office following his conviction on corruption charges in 2003.
Finch was defeated by a resurrected Ganim in the September Democratic primary, a major blow to the incumbent's quest for a third term, in the highest mayoral primary turnout in 30 years. A paperwork snafu for a minor party candidacy in November then derailed any reasonable effort for reelection. Finch's only option was a long-shot write-in candidacy. In recent days Finch has been gracious in his praise of Foster. Once friends, they had a falling out in Finch's first term as mayor. She lost the Democratic primary to Finch in 2011.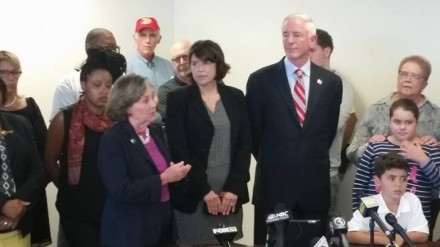 Tuesday afternoon Finch lavished Foster with praise.
"Mary-Jane and I agree on the big things," Finch announced to media and crowd at the well attended event. "Mary-Jane is an honest businesswoman. Mary-Jane is a caring mother. Mary-Jane is a strong advocate against domestic violence and equality for women. And, I know Mary-Jane as someone who truly cares about hard-working Bridgeporters and their future … Our city is at a crossroads. And, on November 3rd, voters can go down the right road or the wrong road. Let's stay on the right road of prosperity and the road with Mary-Jane."
Foster stepped up to the microphone to cheers from spectators saying she and Finch have had their differences but that they both have a deep love for the city.
She thanked Finch's 25 years of service to the city praising him for his commitment to sustainable green energy and new school construction. "I pledge to continue that work."
As media questions came, Finch and Foster generally refrained from stinging criticism of Ganim placing a positive focus on the city's future. Foster departed a bit when she shared she and her husband Jack McGregor lost their business as a result of Ganim's "pay-to-play" administration. Foster and McGregor advanced the proposal for a sports entertainment complex at the edge of the city's Downtown that now includes the ballpark and arena built during the Ganim era.
Foster said she represents "honest, hardworking change." She added, in a reference to Ganim, "Redemption is something you earn" and is not a right.
Finch staffers and political supporters were melancholy a week after they learned he would not have a ballot spot. Rather than petition Finch's name directly onto the ballot for November, political operatives played a surreptitious game that backfired, enlisting Republican used-car salesman from Black Rock Rich DeParle as a straw man in case Finch lost the primary. A key paperwork deadline was missed, as a result Connecticut Secretary of the State Denise Merrill announced Finch's name would not be on the November ballot representing the Job Creation Party.
Rather than sitting out the election, the mayor has been calling supporters to express his support for Foster over Democratic nominee Ganim who has been reaching out to Finch political backers as well. An endorsement from the mayor provides fundraising opportunities for Foster against Ganim, who should be well financed for November. It could also land Foster boots on the ground in her underdog effort against Ganim.
Finch's 5,800 votes in the primary under normal circumstances would have been plenty for a victory. Campaigning around the clock, Ganim inspired voters to the polls who hadn't participated in primaries including registering new voters and switching unaffiliated electors to the Democratic ranks.
Finch was elected mayor in 2007, recruited by party insiders who feared incumbent John Fabrizi could not defeat party maverick Chris Caruso in a primary. Finch won a close primary on his way to a general election win. Finch served on the City Council from November 1991 to 2000 when he defeated Republican incumbent Lee Scarpetti for state senate. He was reelected three times as a state senator prior to his election as mayor.
Finch sees his legacy as building out the long-languishing Steel Point redevelopment area of the East Side home to anchor tenant Bass Pro Shops expected to have a formal opening in the coming weeks. He also sees new school construction as a key legacy as well as his green technology efforts as reducing the carbon footprint for the city.
Foster remarks from press conference:
I think we can all thank Bill Finch for his 25 years of public service.

You may have heard that Bill and I have had our differences. That may be but I have never doubted his, nor has he doubted my, commitment and love for Bridgeport.

We can all be proud of his determination and perseverance in creating a real path to sustainability for our city. His efforts have earned Bill a national reputation as a true and effective leader in green energy. We have single stream recycling, a parks master plan, reduced carbon imprints, the nation's largest fuel cell—the list goes on and on. I will continue those efforts because it is the right thing to do for our city—it's about our public health, prosperity and the future for our children.

Bill has overseen the construction of new schools for our children. Our children will have state of the art schools in which to learn. My promise is that they will have the resources inside those walls to do it. We need smaller class sizes, support staff for our teachers and services for our children and their families. We will meet our children where they are and see that they succeed in every possible way.

This is not about Bill and me. As can be seen by the broad array of folks standing here today—we have had and will have our differences but we are here today because we want the best for Bridgeport.

We are in a space overlooking Pleasure Beach and Steel Point which languished for too long. There is progress in Bridgeport and I look forward to taking this great city to the next level. When the investors and the state have confidence in honest and clean city government, they bring their talents and resources to bear. With that confidence, we can grow our tax base with redevelopment across the city.

All of you who are here today care about this city. I stand here with folks who care about Bridgeport. We've all worked for a better city and sometimes we agreed, sometimes we've disagreed but we've always been about a better Bridgeport.

That unites us and that's what is important today.

What unites us is a desire for a safe city, where our kids go to great schools, where our seniors are not threatened with losing their homes due to the crushing burden of property taxes, where our residents can find jobs that pay a living wage and where they will know they have a government they can count on.

It is not about the past. It is about the future and I am deeply grateful for this show of support. Together we will move Bridgeport forward.